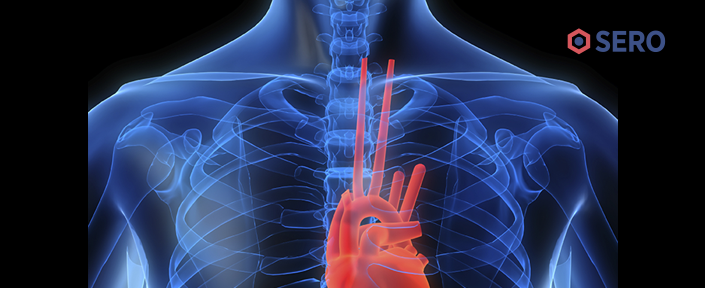 The Most Complete Cardiac QC – Consolidated into One
Last updated: 02nd February, 2022
Products are for professional/laboratory use only.
Sero QC range simplifies daily life in the laboratory by including as many analytes as possible in one QC material.
Also, Sero has chosen a risk-based approach to ensuring the material is as patientlike as possible – using close to 100 % human serum with no buffers, preservatives or artificial stabilizers, yet careful not to strip the matrix of metabolites.
Seronorm Cardiac Acute Liquid is the most complete acute control on the market, combining the complete panel of 15 cardiac markers and acute markers to rule out life threatening conditions such as sepsis, brain trauma, thrombosis and ectopic pregnancy.
Product documentation is provided with assigned values for all analytes on the most frequently used clinical laboratory and point-of-care test systems on the market
As a result of lack of standardization, the various methods for the markers Troponin I, NT-proBNP and BNP give widely different results. To achieve better control of these critical markers in your laboratory, the low level is available in two variants (L-1A and L-1B) to ensure relevant levels on the various platforms.
Technical details:
17 Analytes at clinically relevant levels
Assigned values for various manufacturer instruments.
Low levels for BNP, Homocysteine and Troponin
Liquid human-based serum
Available in 4 levels (the low level is available in 2 variants (L-1A and L-1B) to ensure relevant levels on the various instrument platforms).
Kit size: 6 x 2 mL
Market Comparison Table
| | | | |
| --- | --- | --- | --- |
| Analytes | Sero Cardiac Acute | Supplier A | Supplier B |
| bHCG Total | x |   |   |
| BNP | x | x | x |
| CK, total | x | x |   |
| CK-MB | x | x | x |
| CRP | x | x | x |
| D-Dimer | x |   |   |
| Digoxin | x |   |   |
| HCG, Total | x |   |   |
| Homocysteine | x | x | x |
| IL-6 | x | | |
| Myoglobin | x | x | x |
| NT-proBNP | x | x | x |
| Pro-BNP | x | | |
| Procalcitonin | x |   |   |
| s-100 beta | x |   |   |
| Troponin I | x | x | x |
| Troponin T | x | x | x |
| Total Analytes | 17 | 10 | 9 |
---
function resizeCTA(){
jQuery(".em_ctab__cta_main_container").each(function(){
var containerHeight = jQuery(this).outerHeight(); var containerWidth = jQuery(this).width();
var content = jQuery(this).find('.em_ctab__cta_content p'); var button = jQuery(this).find('.em_ctab__cta_button');
button.css('top', (containerHeight/2 - button.outerHeight()/2) );
var marginRight = button.outerWidth() + 25;
content.css('margin-right', marginRight);
});
}
jQuery( window ).resize(function() { resizeCTA(); });
jQuery(document).ready(function(){ resizeCTA(); });
Go Back