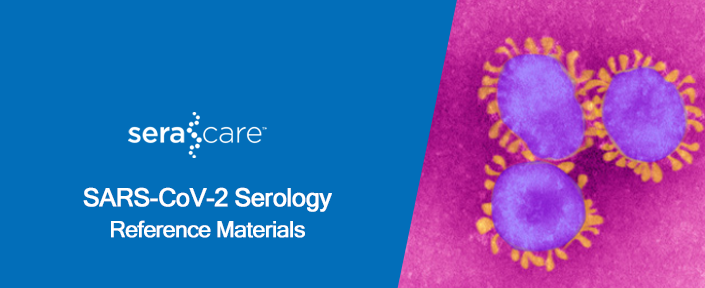 NEW SeraCare COVID-19 SEROLOGY reference material
Last updated: 01st June, 2020
Products are for professional/laboratory use only. ACCURUN® Anti-SARS-CoV-2 Reference Material Kit are formulated for use with test methods for the qualitative determination of antibodies to SARS-CoV-2 virus, the causative agent of COVID-19 disease. The kit contains positive and negative reference materials and can be used with different serology platforms.
SeraCare's ACCURUN Anti-SARS-CoV-2 Solution
Patient-like Matrices:  Formulated from true human-sourced disease material to mimic patient samples encountered in a daily testing environment

Relevant Target Ranges: 

Specifically designed to be weakly reactive, low positive reference materials to challenge assay performance
Ease of Use:  Liquid-ready format, requires no reconstitution
Long Shelf Life:  2 year stability at 2-8°C
Open Vial Stability:  Once opened, stable for 30 days
For Research Use Only. Not for use in diagnostic procedures.
---
Please see the product descriptions, ordering details and compatibility:
Product Description

Series

Material Numbers

Pack Size

Antibody Coverage

Release Testing

ACCURUN Anti-SARS-CoV-2 Reference Material Kit


1000

Positive 2 x 3 mL
Negative 2 x 3 mL

IgG

Abbott ARCHITECT

2000

Total


Roche cobas®
| | | | | | | |
| --- | --- | --- | --- | --- | --- | --- |
| Vendor | Platform | Assay | Antigen | Ab Specificity | Results | Recommended ACCURUN Product |
| Abbott | Architect | SARS-CoV-2 IgG | NP | Human IgG | Qualitative | Series 1000 |
| Abbott | Alinity | SARS-CoV-2 IgG | NP | Human IgG | Qualitative | Series 1000 |
| AutoBio | Lateral flow | SARS-CoV-2 IgG/IgM | Spike | Human IgG & IgM | Qualitative | Series 1000 |
| Bio Rad | EVOLIS System | SARS-CoV-2 Total Ab | NP | Total Ab | Qualitative | Series 2000 |
| Cellex | Lateral flow | SARS-CoV-2 IgG/IgM | NP/Spike | Human IgG & IgM | Qualitative | Series 1000 |
| Chembio | Lateral flow | Covid-19 IgG/IgM | NP | Human IgG & IgM | Qualitative | Series 1000 |
| Diasorin | Liaison | SARS-CoV-2 S1/S2 IgG | Spike | Human IgG | Qualitative | Series 1000 |
| Euroimmun | ELISA | Anti-SARS-CoV-2 IgG | Spike | Human IgG | Qualitative | Series 1000 |
| Ortho | Vitros | CoV2G | Spike | Human IgG | Qualitative | Series 1000 |
| Ortho | Vitros | CoV2T | Spike | Total Ab | Qualitative | Series 2000 |
| Roche | cobas | Anti-SARS-CoV-2 | NP | Total Ab | Qualitative | Series 2000 |
| Mt. Sinai | LDT | Covid-19 | Spike | Total Ab | Qualitative | Series 2000 |
| NY State Dept. of Health | ELISA | SARS-CoV | NP | Total Ab | Qualitative | Series 2000 |
---
---
function resizeCTA(){
jQuery(".em_ctab__cta_main_container").each(function(){
var containerHeight = jQuery(this).outerHeight(); var containerWidth = jQuery(this).width();
var content = jQuery(this).find('.em_ctab__cta_content p'); var button = jQuery(this).find('.em_ctab__cta_button');
button.css('top', (containerHeight/2 - button.outerHeight()/2) );
var marginRight = button.outerWidth() + 25;
content.css('margin-right', marginRight);
});
}
jQuery( window ).resize(function() { resizeCTA(); });
jQuery(document).ready(function(){ resizeCTA(); });
Go Back