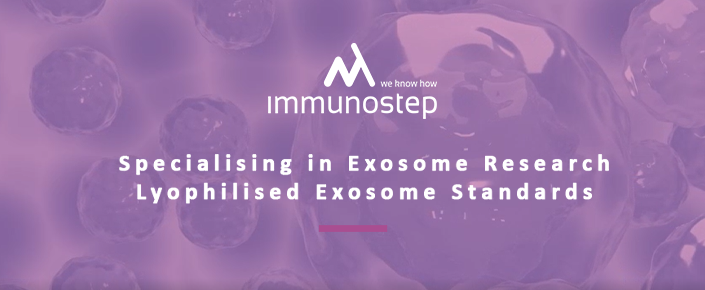 Specialising in Exosome Research Lyophilised Exosome Standards
Last updated: 18th May, 2022
Products are for professional/laboratory use only.
Immunostep are providers of high-quality Flow Cytometry Products, manufacturing a wide range of antibody specificities and choices of fluorochromes. Immunostep are specialists in investigating microparticles and extracellular vesicles (EVs) and have developed innovative products and services to assist and support you. 
Lyophilised Exosome Standards
Lyophilised exosome standards are easy to transport and store and are stable for over 2 years at 2°C to 8°C.  Immunostep provides the highest quality lyophilised exosome standards isolated from a variety of biological sources, including cell culture supernatant, human plasma, serum, urine, and saliva. Exosomes are isolated by differential ultracentrifugation.
High Purity / Stable / Validated
Highly purified exosomes
Providing better performance over competitors.
Guaranteed stability
Thanks to exclusive lyophilisation procedure.
Purity exhaustively validated
By WB, NTA, Cytometry and functional assays in vitro.
Tested and validated application in regenerative medicine, dermatological and pharma research.
Immunostep lyophilised exosomes can be used as control standards for FACS, WB, ELISA and other applications, as well as quantitative calibration standards for exosomes in biological samples and for immunocapture assay performance evaluation.
function resizeCTA(){
jQuery(".em_ctab__cta_main_container").each(function(){
var containerHeight = jQuery(this).outerHeight(); var containerWidth = jQuery(this).width();
var content = jQuery(this).find('.em_ctab__cta_content p'); var button = jQuery(this).find('.em_ctab__cta_button');
button.css('top', (containerHeight/2 - button.outerHeight()/2) );
var marginRight = button.outerWidth() + 25;
content.css('margin-right', marginRight);
});
}
jQuery( window ).resize(function() { resizeCTA(); });
jQuery(document).ready(function(){ resizeCTA(); });
Go Back