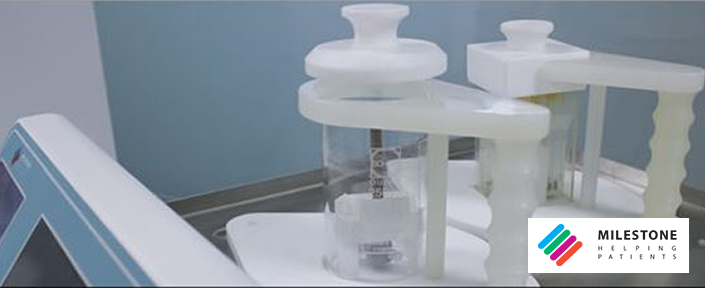 Bone decalcification with the KOS – a user's perspective
Last updated: 12th January, 2022
Products are for professional/laboratory use only.
A state-of-the-art, multifunctional microwave system, the KOS is a rapid, icon driven, multifunctional  processor. The multitasking nature of the instrument can enhance and accelerate many of the typical applications encountered in the histology laboratory.
Decalcification – improve your turn around time for bone decalcification!

Special Stains
Antigen Retrieval
Fixation
Gross Hardening
Tissue Processing
Electron Microscopy model available
Felicity Lawrence (senior histology technician at CARF Histology, Institute of Health and Biomedical Innovation, Queensland University of Technology) shares her feedback on two years' experience using the KOS for bone decalcification:
"The ability to rapidly decalcify bone without damaging the integrity and antigenicity of the sample has been welcomed by many of our research groups. 
Whilst traditional decalcification with 10% EDTA takes 6 months at RT (longer at 4oC) to fully decalcify sheep tibial samples, the KOS rapid decalcifier reduces this time frame to 2-3 months, permitting quicker experimental investigations with faster publication of results. 
Whilst ongoing studies are looking to further reduce this timeframe, the current saving of 3-4 months during a PhD or Masters program is priceless.  The ability to batch process samples has reduced reagent consumption and time demands, improving cost efficiencies in terms of consumable costs and staff availability. 
Consequently, interest in and usage of the rapid decalcifier by many research groups has increased dramatically this year."
function resizeCTA(){
jQuery(".em_ctab__cta_main_container").each(function(){
var containerHeight = jQuery(this).outerHeight(); var containerWidth = jQuery(this).width();
var content = jQuery(this).find('.em_ctab__cta_content p'); var button = jQuery(this).find('.em_ctab__cta_button');
button.css('top', (containerHeight/2 - button.outerHeight()/2) );
var marginRight = button.outerWidth() + 25;
content.css('margin-right', marginRight);
});
}
jQuery( window ).resize(function() { resizeCTA(); });
jQuery(document).ready(function(){ resizeCTA(); });
Go Back