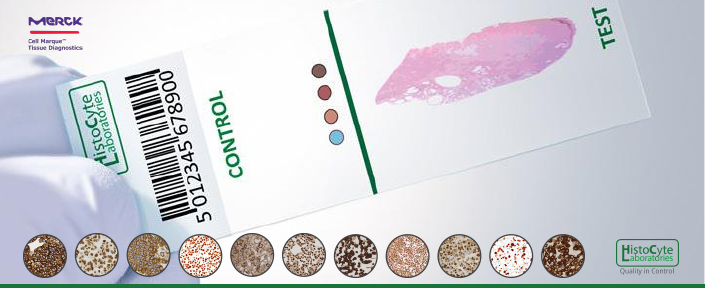 HistoCyte – Cell line control material
Last updated: 12th January, 2022
Products are for professional/laboratory use only.
HistoCyte Laboratories have developed unique processes that allow the production of high density cell preparations that retain their original morphology. Through careful selection of cell types HistoCyte Laboratories Ltd generates a range of positive and negative controls to determine effective performance of reagents used in slide based assessments.
HistoCyte Dynamic Range and Analyte Controls, as Research Use Only products, offer the ability to use the same tissue block for IHC and ISH staining. The versatility in these controls provides a cost-effective solution for consistent results.
Laboratories often struggle for sustainable control material. Additionally, biomarker expression can vary throughout the tissue, often due to a number of factors including, but not limited to:
Fixation
Process artifact
Heterogeneity of the protein
This means that tissue selected as a control can vary to the point that makes its use redundant.
HistoCyte Laboratories cell lines are compact and typically "tissue-like". In particular, the breast ductal carcinoma often creates "pseudo-acini" producing a more tissue-like appearance. The morphology of the cells allow better representation of how they have been treated on the slide while the assay has been conducted; it is widely apparent when the morphology is disrupted. Other cell line preparations available in the market, while performing adequately by IHC or FISH, are often sparse as well as the cellular integrity or morphology is often poor.
HistoCyte's cell lines are standardized, developed, and manufactured to provide consistent results throughout the block; this is what differentiates them from competitors and from other tissue controls.
HistoCyte Laboratories has developed a range of research use only controls, some with as few as two cell lines providing a positive and negative: Standard Controls. There is also a supply of more comprehensive products with as many as five cell lines, providing a range of expression and sensitivity: The Dynamic Range DR
Each product is available as pre-cut slides or as a full block of cell microarrays. They contain 2mm diameter cores that are between 3mm and 3.5mm in length. Cell lines are strategically selected to deliver the required range of expression for any given biomarker.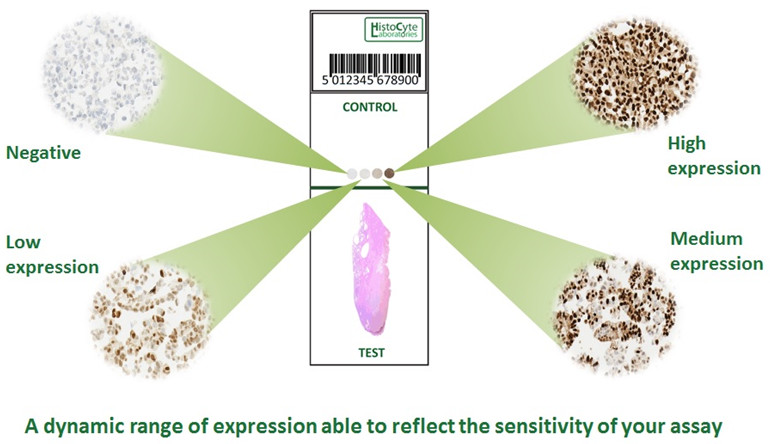 ---
function resizeCTA(){
jQuery(".em_ctab__cta_main_container").each(function(){
var containerHeight = jQuery(this).outerHeight(); var containerWidth = jQuery(this).width();
var content = jQuery(this).find('.em_ctab__cta_content p'); var button = jQuery(this).find('.em_ctab__cta_button');
button.css('top', (containerHeight/2 - button.outerHeight()/2) );
var marginRight = button.outerWidth() + 25;
content.css('margin-right', marginRight);
});
}
jQuery( window ).resize(function() { resizeCTA(); });
jQuery(document).ready(function(){ resizeCTA(); });
Go Back