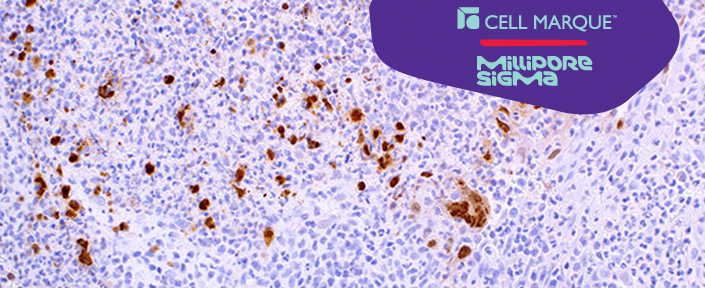 HSV II Now Available from Cell Marque
Last updated: 31st January, 2018
Herpes Simplex Virus II Rabbit Polyclonal Antibody
Herpes simplex virus is quite ubiquitous and is quite variable in its presentation in human disease. Type II typically involves the genitalia. It may affect the skin or internal organs (typically brain, lung, liver, adrenal gland, or gastrointestinal tract) of immunocompromised individuals. This polyclonal antibody reacts with Type II Herpes viruses.
Specifications
Reactivity:

paraffin
Visualization: Cytoplasmic, Membranous
Control: Herpes simplex virus infected tissue
Dilution Range: 1:100-1:500
Ordering Information
0.1ml concentrate – 362A-74
0.5ml concentrate – 3625-15
1.0ml concentrate – 362A-76
1.0ml predilute – 362A-77
7.0ml predilute – 362A-18
Note: this product is provided as Research Use Only in Australia.
Go Back