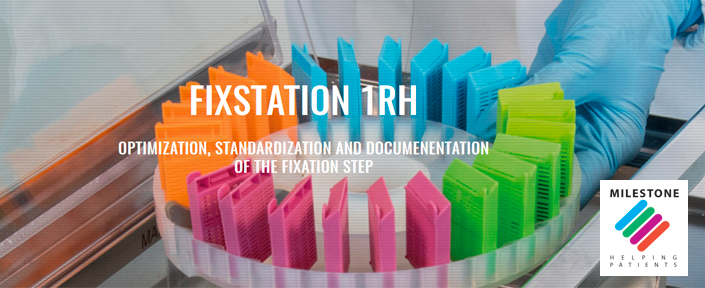 Introducing the NEW FixSTATION 1RH with all new features
Last updated: 01st August, 2017
Small enough to fit any grossing station or ventilated hood, the FixSTATION 1RH is a game changer in controlling the fixation process.
Fixation of racks takes place in a close environment, outside the tissue processor, according to specific protocols with full documentation readily available
---
WHAT SETS THE FIXSTATION 1RH APART?
THE UNIQUE COMBINATION OF FULLY PROGRAMMABLE TIME/TEMPERATURE FIXATION PROTOCOLS COMBINED WITH REAGENT FILTERING FEATURES
---
Suitable for racks of Milestone and racks from other manufacturers
Suitable for all kinds of fixation reagents
Temperature range: up to 55 °C (131 °F)
Time for pre-soaking: up to 99 hours 59 minutes
Time for fixation: up to 99 hours 59 minutes
Stainless steel tank (AISI304) with 4.5L capacity
Steel wire mesh filter of FixSTATION solution for protection againts contaminants
Automatic stirring of solution
Constant pH of solution during process (closed system)
Full reagent management
Need good results?  Start with a good preparation
CONTROL OF FIXATION
Accurate control of all steps of the preanalytical process is a prerequisite for precise, reliable and consistent diagnostic assays. Recent publications1 have evidenced that standardization and documentation of the all important fixation step will lead to improved I.H.C. assays.
TODAY'S FIXATION
Leaving the specimens in a plastic container with formalin overnight does not fulfill the requirements for controlled fixation. No standardization, no documentation.
How many hours/minutes is overnight?
What is the temperature of the fixative?
Is stirring available for temperature homogeneity?
After how many cassettes is formalin substituted?
Is the pH constant?
What kind of documentation is available?
Until now, documented fixation protocols could only be obtained by placing specimens in an automatic tissue processor. This means holding a high performance instrument almost idle for hours/days waiting for the fixation process to be completed and documented.
High flexibility
Suitable for all type of racks
The FixSTATION 1RH will accept Milestone racks from the PATHOS and LOGOS family as well as racks from the most common conventional tissue processor of other manufacturers.
 f
Full documentation
With the FixSTATION 1RH, documentation of every factor infl uencing the fi xation process is stored in a log book for easy retrieval. Fixation protocols can be transferred to a USB
stick and then printed for Quality Assurance and Compliance regulations. Full compliance to ASCO/CAP recommendations for HER2, ER testing.
Limited footprint
Small enought to fi t any grossing station or ventilated hood. Dimensions shown are during operation of the unit.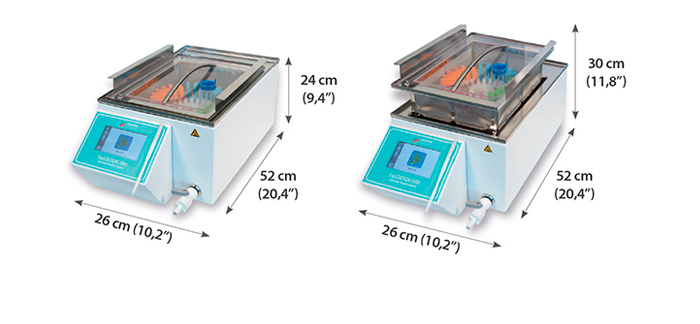 Go Back