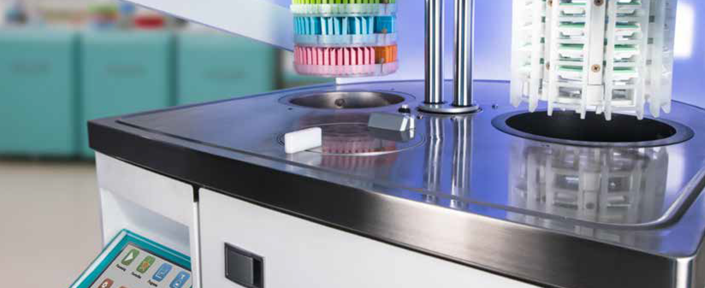 Milestone MAGNUS – The Game Changer
Last updated: 01st December, 2020
Products are for professional/laboratory use only.
Incomparable flexibility: any tissue, any cassette. Continuous operation day and night.
MAGNUS is the result of Milestone putting its 30 years of experience to use, resulting in a patented hybrid processing technology.
Lean by Design. MAGNUS is the processor with the highest uptime by design. It does not require paraffin transfers, saving time and potential blockages. There are no cleaning cycles and a reduced consumption of reagents overall, delivering dramatic cost savings.
Safe by Design. It runs xylene-free, enabling long paraffin reutilization. Additionally, it checks alcohol purity before every step using the (optional) reagent sensor. During the day, MAGNUS runs urgent biopsies in short, fully automated, continuous loading processes. During the night, MAGNUS runs as an advanced, resistant heated, processor. It also allows the user to set fixation time to fulfill all CAP/ASCO guidelines for assessing HER-2, ER and PgR testing.
---
---
---
Why MAGNUS?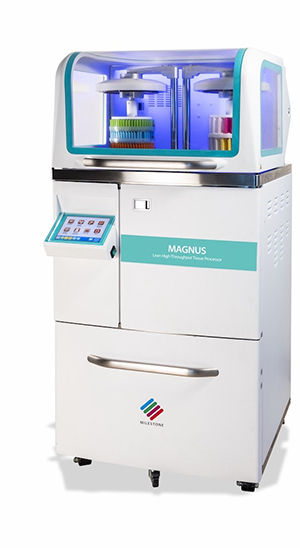 LEAN WORKFLOW


The unique robotic arm makes MAGNUS the 

best

–

in

–

class 

Lean 

P

rocessor. Its 

continuous 

automatic 

processing

 n

ever stops, even during 

reagent

 changes.

IDEAL LAB COMPANION


MAGNUS is always ready to start

,

 

per user

 

demand, 

creating 

unrivalled 

processing efficiency and performance.

DRAMATIC REAGENT SAVINGS


MAGNUS tissue processor uses only 100% alcohol, resulting in significantly lower con

sumption of reagents overall. 

With

 MAGNUS

,

 wax lasts 

for

 

over a month as all the clearing reagent, either MileTWO or Isopropanol, is boiled off in the impregnation step. It delivers substantial savings over 10 years that can 

equa

l

 the capital purchase 

cost 

of the unit.

ROBOTIC ARM FOR AUTOMATIC DUAL MODE WITH NO DOWNTIME


Running in

 dual mode 

means

 no wax 

is 

pumping 

in and out of the retort

,

 

therefore 

a 

post run cleaning cycle is never required.

XYLENE-FREE
ELIMINATE UNDER-PROCESSED TISSUES
MAGNUS' efficiency allows for processing large or fatty tissue within a normal timeline, eliminating the need for reprocessing and eliminating under-processed tissues.
NO CHANGE TO YOUR IHC PROTOCOLS, THUS QUICK VALIDATION
MAGNUS tissue processor will run with your fixative of choice, thus all downstream test results (IHC, FISH, ISH, etc.) remain the same. No change to your protocol is required.
FULL COMPLIANCE
MAGNUS can operate with resistance heating only, and processes i.e. breast tissue for assessing HER-2 in full compliance with CAP/ASCO guidelines and FDA HER-2 approved testing, in accordance with heating mode, temperatures, and reagent types.
TIME SAVING


MAGNUS allows for the d

irect 

transfer of 

reagents

 from commercial containers (5

L

 / 

1G

al

 supplier bottle

s) into the processing retort. 

There is n

o downtime for filling tanks as required by conventional tissue processors.

MAGNUS NEVER RUNS OUT OF WAX


Its 

optional 

extra wax reservoir avoids 

unwanted 

delays due to

 wax shortages

. The w

ax 

retort is 

auto filled

 between runs.

HIGH SAFETY STANDARDS


No decanting

 of reagents

, 

no 

transfers

 and

 no 

reagent 

fumes.

ULTRA PROTECTION FOR USER SAFETY


MAGNUS is a f

ully 

enclosed system with 

a twin 

fume 

extraction 

system at the retort opening. The slide-out reagent drawer is 

equipped

 with an efficient ventilation/exhaust system.

ERROR-FREE REAGENT REPLACEMENT


MAGNUS

'

 

reagent replacement is

 error-free thanks to a 

barcode

 system

. When a reagent needs to be replaced, the operator

 

uses the barcode system by scanning both the bottle and position to ensure 

correct positioning in the drawer.

REAGENT QUALITY CHECKS


In-processing 

reagent

 quality checks

 

are performed by the (optional) on-board sensor.

COLOR CODED UNIT STATUS


Operators can 

visualize

 the 

status

 of the unit

 

and if user action is required

 

thanks to the color coded light system

.
---
MAGNUS is a highly flexible tissue processor engineered to suit the end users' needs. If required, the MAGNUS can be programmed to function as a conventional tissue processor with xylene protocols.
function resizeCTA(){
jQuery(".em_ctab__cta_main_container").each(function(){
var containerHeight = jQuery(this).outerHeight(); var containerWidth = jQuery(this).width();
var content = jQuery(this).find('.em_ctab__cta_content p'); var button = jQuery(this).find('.em_ctab__cta_button');
button.css('top', (containerHeight/2 - button.outerHeight()/2) );
var marginRight = button.outerWidth() + 25;
content.css('margin-right', marginRight);
});
}
jQuery( window ).resize(function() { resizeCTA(); });
jQuery(document).ready(function(){ resizeCTA(); });
Go Back