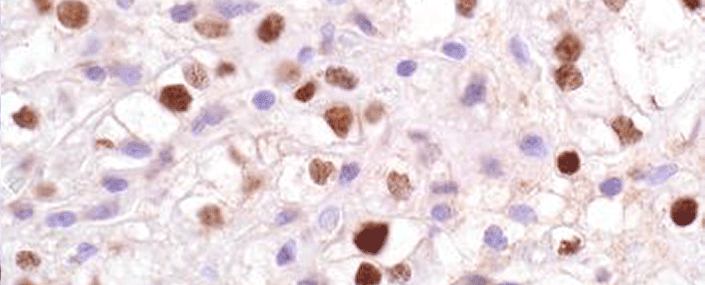 Cell Marque Antibody Clone: PAX2 (EP235)
Last updated: 03rd February, 2022
Products are for professional/laboratory use only.
PAX2 (EP235) Mouse Monoclonal Antibody Clone

Anti-PAX-2 nuclear expression is seen in 88% of clear cell renal cell carcinomas, as well as 18% of papillary renal cell carcinoma, and 13% of chromophobe renal cell carcinomas. 
More recently, O'Connor et al. demonstrated utility in distinguishing ovarian serous papillary carcinoma (anti-PAX-2 positive) from primary breast carcinoma (anti-PAX-2 negative).  Anti-PAX-2 has also been used to distinguish hepatocellular carcinoma (anti-PAX-2 negative) from clear cell renal cell carcinoma.
function resizeCTA(){
jQuery(".em_ctab__cta_main_container").each(function(){
var containerHeight = jQuery(this).outerHeight(); var containerWidth = jQuery(this).width();
var content = jQuery(this).find('.em_ctab__cta_content p'); var button = jQuery(this).find('.em_ctab__cta_button');
button.css('top', (containerHeight/2 - button.outerHeight()/2) );
var marginRight = button.outerWidth() + 25;
content.css('margin-right', marginRight);
});
}
jQuery( window ).resize(function() { resizeCTA(); });
jQuery(document).ready(function(){ resizeCTA(); });
Go Back