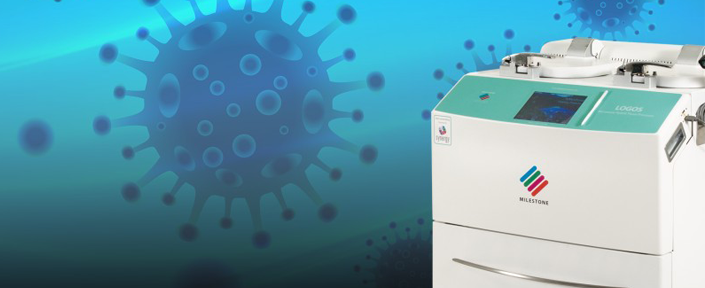 Assuring protection and safety for operators working with Milestone units.
Last updated: 03rd February, 2022
Products are for professional/laboratory use only.
In order to protect operators against the proliferation of microbes in the laboratory and help keep a safe working environment, all Milestone products (with a few exceptions, listed below*) are now coated with new antimicrobial powder paints.
The innovative Bacteri Ag antimicrobial technology uses silver ions (Ag +) to inhibit the growth and transmission of microbes on powder coated surfaces. Silver ions are slowly released via an ion exchange mechanism.
Biomedical research has shown that no pathogenic organism can live for more than a few minutes in the presence of a trace of nanometric particles of metallic silver, while they have no toxic effects on human cells. This technology creates a new barrier in controlling the spread of viruses in indoor environments.
The antimicrobial powder coating guarantees the utmost anti-microbial efficiency (reduction of bacterial activity, greater than 99.9%) against the most popular microorganisms such as Gram-positive bacteria, i.e. Staphylococcus aureus NBRC12732, and Gram-negative bacteria, i.e. Escherichia coli NBRC3972.
Antimicrobial tests were carried out by the analysis laboratories according to the Japanese standard JIS Z2801-2010, corresponding to the international standard ISO 22196: 2007.
* All Milestone units, with the exception of HistoDream EW, KOS and MacroPATH Point-of-Care (POC) control terminals, are painted with the new antimicrobial powder coating.
---
---
function resizeCTA(){
jQuery(".em_ctab__cta_main_container").each(function(){
var containerHeight = jQuery(this).outerHeight(); var containerWidth = jQuery(this).width();
var content = jQuery(this).find('.em_ctab__cta_content p'); var button = jQuery(this).find('.em_ctab__cta_button');
button.css('top', (containerHeight/2 - button.outerHeight()/2) );
var marginRight = button.outerWidth() + 25;
content.css('margin-right', marginRight);
});
}
jQuery( window ).resize(function() { resizeCTA(); });
jQuery(document).ready(function(){ resizeCTA(); });
Go Back