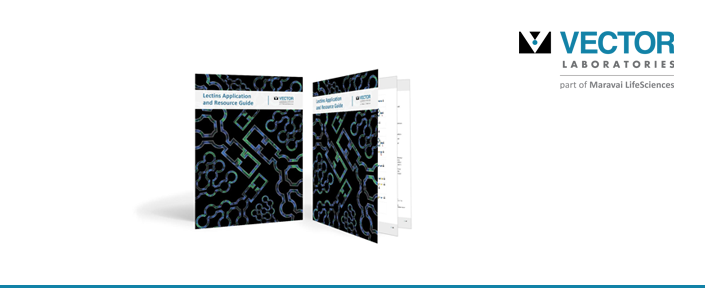 Vector Lectin Application and Resource Guide Now Available
Last updated: 03rd February, 2022
Products are for professional/laboratory use only.
The ultimate application & resource guide for using  lectins in your research including the use for COVID-19 research. With information on over 12 applications, functional validation data from NCFG, & valuable insights into how lectins are applied in biological science, this guide will appeal to both novices and experts alike.
The Lectins Application and Resource Guide is a content rich educational booklet that provides insight into how lectins are applied in biological sciences. With a focus on plant derived lectins, the guide showcases the flexibility and utilization of lectins and lectin conjugates in established lab applications.
Learn how lectins are used in identifying changing glycan profiles in normal and disease states, and as valuable tools for cellular marking, neural tracing, in vivo vasculogenesis mapping, viral capture, and much more. This guide will have broad appeal for both experts and novices alike.
---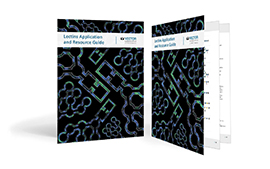 Key Features of this Guide include:
Lectin introductory overview and history timeline
Twelve (12) applications using lectins, including general procedures, reference images, and published citations
Tables highlighting lectin sugar specificity, properties, and structures
Functional validation data from the National Center for Functional Glycomics (NCFG) at Harvard University
Use of lectins in coronavirus research
Complete product listing along with accessory glycobiology products
---
function resizeCTA(){
jQuery(".em_ctab__cta_main_container").each(function(){
var containerHeight = jQuery(this).outerHeight(); var containerWidth = jQuery(this).width();
var content = jQuery(this).find('.em_ctab__cta_content p'); var button = jQuery(this).find('.em_ctab__cta_button');
button.css('top', (containerHeight/2 - button.outerHeight()/2) );
var marginRight = button.outerWidth() + 25;
content.css('margin-right', marginRight);
});
}
jQuery( window ).resize(function() { resizeCTA(); });
jQuery(document).ready(function(){ resizeCTA(); });
Go Back