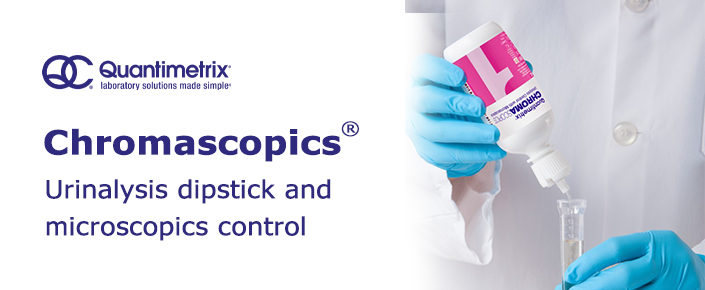 Chromascopics® Urinalysis dipstick and microscopics control
Last updated: 12th April, 2022
Products are for professional/laboratory use only.
Urinalysis dipstick and microscopics control designed specifically for the Clinitek Novus, Siemens urinalysis reagent strips, and Siemens Microalbumin 2. CHROMASCOPICS may be used for validating the processing of urine samples prior to the microscopic evaluation of urine sediment.

CHROMASCOPICS is intended for use in traditional testing environments including reference labs, hospitals, doctors' offices and clinical lab settings.
CHROMASCOPICS Urinalysis Control is designed for use with major urinalysis analyzers including: Clinitek Novus, Clinitek Advantus, Clintek Atlas, Clinitek Status, Clinitek Status Plus, Clinitek 50, Clinitek 500, Atellica UAS 800 & Atellica 1500 Automated Urinalysis System.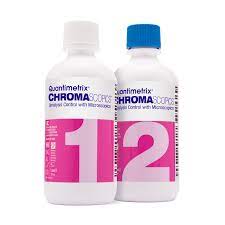 Chromascopics Analytes
Bilirubin, Blood, Clarity, Color, Creatinine, Glucose, hCG, Ketones, Leukocytes, Microalbumin, Nitrite, pH, Protein, Specific Gravity, Urobilinogen. Microscopics: Bacteria, Calcium Oxalate, Dihydrate Crystals, Red Blood Cells, White Blood Cells
Chromascopics Ordering Information
| | | |
| --- | --- | --- |
| Product code | Contents | Format |
| QM154002 | L1 & L2 | 4 x 120mL |
*Limited samples available.
function resizeCTA(){
jQuery(".em_ctab__cta_main_container").each(function(){
var containerHeight = jQuery(this).outerHeight(); var containerWidth = jQuery(this).width();
var content = jQuery(this).find('.em_ctab__cta_content p'); var button = jQuery(this).find('.em_ctab__cta_button');
button.css('top', (containerHeight/2 - button.outerHeight()/2) );
var marginRight = button.outerWidth() + 25;
content.css('margin-right', marginRight);
});
}
jQuery( window ).resize(function() { resizeCTA(); });
jQuery(document).ready(function(){ resizeCTA(); });
Go Back