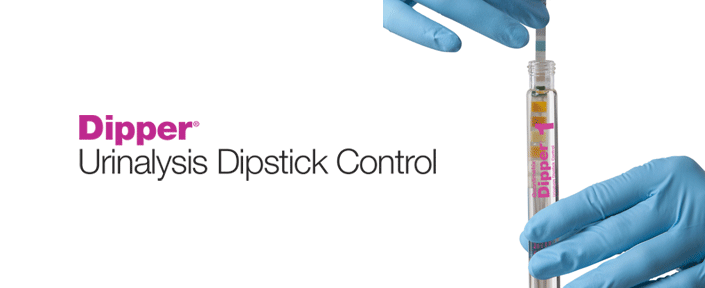 Dipper® Urinalysis Dipstick Control
Last updated: 25th January, 2022
Products are for professional/laboratory use only.
Monitor the performance of visual and instrument readings of urinalysis dipsticks by immersing the dipstick into the control – the same way you test your patient samples. Values are included for all dipstick analytes plus microalbumin and creatinine, and qualitative results for hCG early pregnancy detection test methods.
Dipper® Urinalysis Dipstick Control is designed for use with most urinalysis reagent strips. It can also be used for confirmatory tests and refractometry.*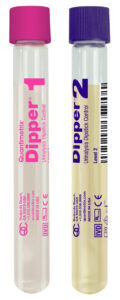 Simulates patient testing.
Liquid, made with human urine.
18-month refrigerated shelf life from date of manufacture*
3 months (or 20 dips) open vial stability when stored at 2ºC–8ºC*
2 Levels of control available
Dipper ordering information
| | | |
| --- | --- | --- |
| Product #​ | Contents​ | Format​ |
| QM144001​ | L1 & L2​ | 6 X 15mL​ |
| QM144261​ | Level 2​ | 6 X 15mL​ |
Dipper Analytes*
Bilirubin, Blood, Creatinine, Glucose, hCG, Ketones, Leukocytes, Microalbumin, Nitrite, pH, Protein, Specific Gravity, Urobilinogen
* Refer to the package insert of currently available lots for specific analyte, stability claims and instrument compatibility.
function resizeCTA(){
jQuery(".em_ctab__cta_main_container").each(function(){
var containerHeight = jQuery(this).outerHeight(); var containerWidth = jQuery(this).width();
var content = jQuery(this).find('.em_ctab__cta_content p'); var button = jQuery(this).find('.em_ctab__cta_button');
button.css('top', (containerHeight/2 - button.outerHeight()/2) );
var marginRight = button.outerWidth() + 25;
content.css('margin-right', marginRight);
});
}
jQuery( window ).resize(function() { resizeCTA(); });
jQuery(document).ready(function(){ resizeCTA(); });
Go Back