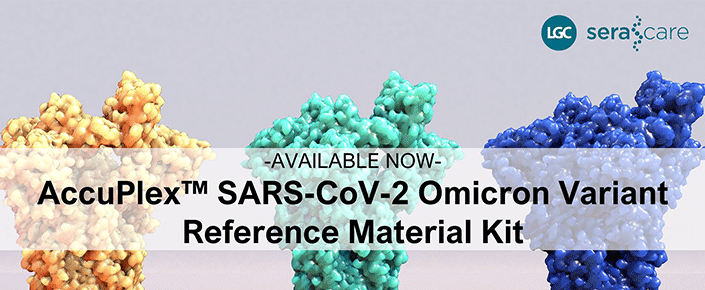 Formulated for use with test methods that can detect SARS-CoV-2 virus
Last updated: 17th March, 2022
Products are for professional/laboratory use only.
LGC SeraCare SARS-CoV-2 Omicron Variant Reference Material Kit
Product code: BB05050298
Positive Reference Material:
– Member 1: Omicron (B.1.1.529) variant; 1 x 1.5 ml
– Member 2: Wild Type (Wuhan); 1 x 1.5 mL
Negative Reference Material:
– Negative: RNase P; 1 x 1.5 mL
Formulated for use with test methods that can detect SARS-CoV-2 virus. The kit contains positive reference material representing the full SARS-CoV-2 genome with mutations identified in the S and N gene of the SARS-CoV-2 Omicron variant B.1.1.529. Also included is positive material containing wild type (Wuhan) sequence, as well as negative material based on the human RNase P gene.
---
Learn more about LGC SeraCare's AccuPlex recombinant reference material.
LGC SeraCare's AccuPlex recombinant material serves as a true full process molecular control for your diagnostic assays. Compatible with multiplexed RT-PCR and NGS-based assays, AccuPlex custom recombinant materials are constructed with a replication-deficient mammalian virus, producing a safe, non-infectious material (Figure 1 ). With a protein coat and lipid bilayer, these mammalian virus-based reference materials resemble the complexity of virus targets found in true patient samples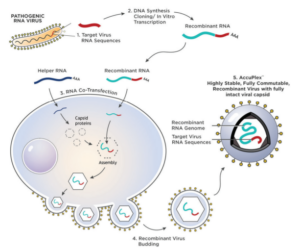 FIGURE 1: 1) RNA sequence from the pathogenic virus of interest is chosen. 2) DNA synthesis and cloning occur to produce the recombinant RNA. 3) Recombinant RNA and helper RNA are co-transfected into the mammalian cells, allowing the encapsulation of recombined RNA. 4) Exocytosis of the mature enveloped non-infectious and replication deficient RNA virus containing the assay target RNA sequence of interest
---
The AccuPlex recombinant closely resembles the wild-type mammalian pathogenic virus. This enables the release of the viral genome at a similar rate to the wild-type virus during the nucleic acid sample preparation process. AccuPlex recombinant material mimics a real patient sample in your workflow, serving as a full-process control for your assay.
For Research Use Only. Not for use in diagnostic procedures.
function resizeCTA(){
jQuery(".em_ctab__cta_main_container").each(function(){
var containerHeight = jQuery(this).outerHeight(); var containerWidth = jQuery(this).width();
var content = jQuery(this).find('.em_ctab__cta_content p'); var button = jQuery(this).find('.em_ctab__cta_button');
button.css('top', (containerHeight/2 - button.outerHeight()/2) );
var marginRight = button.outerWidth() + 25;
content.css('margin-right', marginRight);
});
}
jQuery( window ).resize(function() { resizeCTA(); });
jQuery(document).ready(function(){ resizeCTA(); });
Go Back