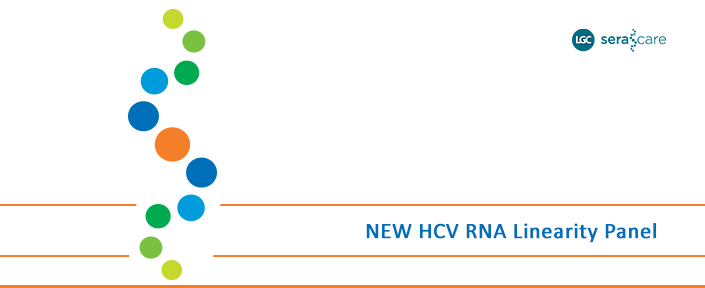 NEW HCV RNA Linearity Panel from LGC
Last updated: 25th January, 2022
Products are for professional/laboratory use only.
Abacus dx is pleased to inform you about the NEW HCV RNA Linearity Panel available from LGC.
The AccuSpan™ HCV RNA Linearity Panel 2410-0327 is intended to be used in evaluating the dynamic range of quantitative HCV RNA assays. It is an eight member panel made from serial dilutions of high titter recombinant hepatitis C virus. This panel can be used for monitoring HCV RNA recovery at defined intervals, identifying consistency over a linear range, verifying lot changes, performing linearity studies, or whenever there are indications of possible assay deterioration.
 
This new panel was formulated using LGC's propriety AccuPlex™ technology, which produces a replicative deficient, fully packaged virus which is heat treated as an added precaution.
 
Regulatory Status: For Research Use Only. Not for use in diagnostic procedures.
---
function resizeCTA(){
jQuery(".em_ctab__cta_main_container").each(function(){
var containerHeight = jQuery(this).outerHeight(); var containerWidth = jQuery(this).width();
var content = jQuery(this).find('.em_ctab__cta_content p'); var button = jQuery(this).find('.em_ctab__cta_button');
button.css('top', (containerHeight/2 - button.outerHeight()/2) );
var marginRight = button.outerWidth() + 25;
content.css('margin-right', marginRight);
});
}
jQuery( window ).resize(function() { resizeCTA(); });
jQuery(document).ready(function(){ resizeCTA(); });
Go Back