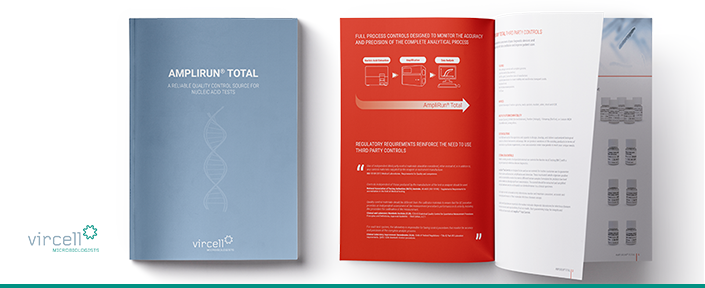 NEW! Vircell AMPLIRUN® TOTAL Catalogue
Last updated: 10th August, 2021
A growing number of laboratories around the world are using Vircell Extraction & Amplification controls for PCR QC purposes; to comply with lab accreditation and to improve patient care. 
Vircell AmpliRun® Total Controls are independent, external controls to monitor the accuracy and precision of the complete analytical process: extraction and amplification. These non-infectious lyophilized run controls include the complete, inactivated microorganism in a matrix that mimics human specimens.
Why use Vircell AmpliRun® Total controls?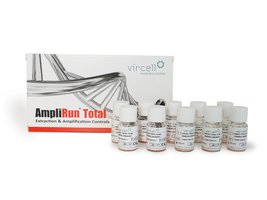 Ensure consistent, accurate and meaningful test results
Long expiry date (2.5 years) for long term use of a single lot number
Avoid the risk of using infectious agents
Ideal for the daily control of molecular assays and instrument performance to aid laboratories in meeting quality and regulatory requirements
Standardised results with lot-to-lot consistency guaranteed by Vircell.
 
Current regulatory requirements reinforce the need to use a third party control to monitor your PCR process: "Controls independent of those produced by the manufacturer of the test or analyser should be used" [Ref: National Association of Testing Authorities (NATA) Australia. AS 4633 (ISO 15189) – Supplemental Requirements for accreditation in the field of Medical testing].
We are pleased to announce that a New Catalogue of AmpliRun® Total is now available with updated information.
---
function resizeCTA(){
jQuery(".em_ctab__cta_main_container").each(function(){
var containerHeight = jQuery(this).outerHeight(); var containerWidth = jQuery(this).width();
var content = jQuery(this).find('.em_ctab__cta_content p'); var button = jQuery(this).find('.em_ctab__cta_button');
button.css('top', (containerHeight/2 - button.outerHeight()/2) );
var marginRight = button.outerWidth() + 25;
content.css('margin-right', marginRight);
});
}
jQuery( window ).resize(function() { resizeCTA(); });
jQuery(document).ready(function(){ resizeCTA(); });
Go Back