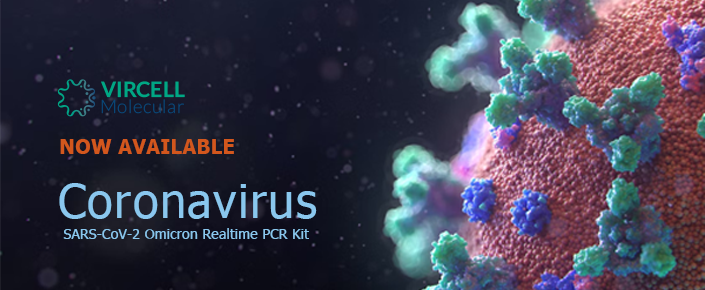 New Vircell SARS-COV-2 OMICRON REALTIME PCR KIT
Last updated: 31st May, 2022
Products are for professional/laboratory use only.
We are pleased to announce Vircell have recently released the new REALTIME PCR Multiplex Kit for the one-step detection of SARS-CoV-2 and the preliminary Omicron variant assignation in human respiratory and saliva samples.
Product code: RTPCR012-LPD-R
Description: SARS-COV-2 OMICRON REALTIME PCR KIT
RUO labelled
4 targets Multiplex PCR detection – one single reaction tube per sample.
S-N679K target for the identification of Omicron variant and two additional specific targets (N and E) common to all SARS-CoV-2 lineages.
Endogenous human RNase P control- for detecting unsuitable sample collection or degradation.
Suitable for 4-channel qPCR cyclers (FAM, HEX/VIC, Texas Red/ROX and Cy5).
Fast and reliable results in under 2 h.
Lyophilized master mix and positive control to ensure stability during transport.
New pre-dispensed format of 96 x 0.1 ml tear-off plate with 12 break-a-part 8-tube strips (LPD) for greater user convenience.
This kit is available in New Zealand only. Not for sale in Australia
function resizeCTA(){
jQuery(".em_ctab__cta_main_container").each(function(){
var containerHeight = jQuery(this).outerHeight(); var containerWidth = jQuery(this).width();
var content = jQuery(this).find('.em_ctab__cta_content p'); var button = jQuery(this).find('.em_ctab__cta_button');
button.css('top', (containerHeight/2 - button.outerHeight()/2) );
var marginRight = button.outerWidth() + 25;
content.css('margin-right', marginRight);
});
}
jQuery( window ).resize(function() { resizeCTA(); });
jQuery(document).ready(function(){ resizeCTA(); });
Go Back