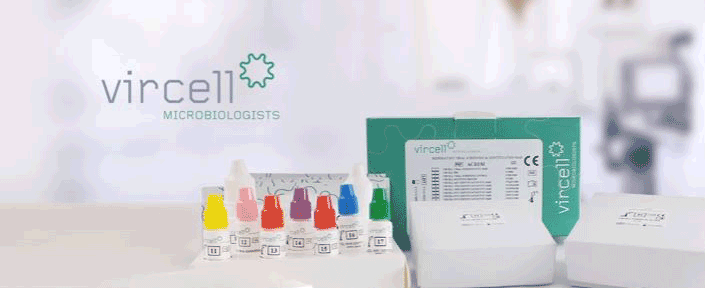 Respiratory Viral Screening & Identification MAb demonstration video
Last updated: 02nd February, 2022
Products are for professional/laboratory use only.
Screening and identification DFA kit for rapid, sensitive and specific detection of AdV, InfA, InfB, PIV1, PIV2, PIV3 and RSV in cell culture or from direct specimens.

Main Benefits

One-step detection using high quality FITC-labelled monoclonal antibodies for the specific detection of seven major viruses causing respiratory infection.
It is especially useful in the early stage of infection. 
---
Easy Reading Guide
Vircell offers you a comprehensive image gallery of the product to help you with the reading and interpretation of results. 
---
More Information
Detailed information on the principle of the test, kit components, procedures and performance is covered by the instructions for use.
---
function resizeCTA(){
jQuery(".em_ctab__cta_main_container").each(function(){
var containerHeight = jQuery(this).outerHeight(); var containerWidth = jQuery(this).width();
var content = jQuery(this).find('.em_ctab__cta_content p'); var button = jQuery(this).find('.em_ctab__cta_button');
button.css('top', (containerHeight/2 - button.outerHeight()/2) );
var marginRight = button.outerWidth() + 25;
content.css('margin-right', marginRight);
});
}
jQuery( window ).resize(function() { resizeCTA(); });
jQuery(document).ready(function(){ resizeCTA(); });
Go Back