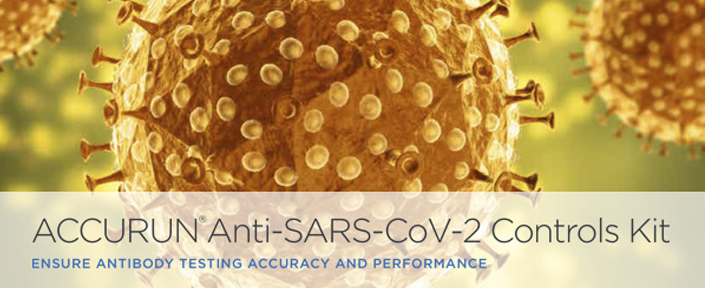 LGC SARS-CoV-2 Serology Solutions
Last updated: 02nd November, 2021
Products are for professional/laboratory use only.
ACCURUN® Anti-SARS-CoV-2 Controls Kit
To support the many SARS-CoV-2 serology assay formats available, the kit is currently offered in two configurations, one designed for IgG-specific assays and the other for total antibody tests. Series 1000 is released using the Abbott ARCHITECT SARS-CoV-2 IgG assay, and Series 2000 is released using the Roche cobas® Elecsys® Anti-SARS-CoV-2 assay. Controls are specifically formulated to exhibit low positive reactivity in true patient-like matrices, to test assay performance near critical signal cut-off boundaries.
Patient-like Matrices
Ease of Use: Liquid-ready format, requiring no reconstitution
Long Shelf Life: 2 year stability at 2 – 8˚C
Open Vial Stability: Once opened, stable for 30 days
Product Description

Series

Material Numbers

Pack Size

Antibody Coverage

Release Testing

ACCURUN Anti-SARS-CoV-2 Controls Kit


1000

Positive 2 x 3 mL
Negative 2 x 3 mL

IgG

Abbott ARCHITECT

2000

Total


Roche cobas®
For In Vitro Diagnostic Use.  CE-IVD marked.
---
AccuSet™ SARS-CoV-2 Performance Panel
This eleven-member validation panel consists of undiluted, naturally occurring human-plasma members. Ten panel members represent collections from multiple individuals positive for antibodies to SARS-CoV-2; a single negative member is also included. Test results from commercially available SARS-CoV-2 antibody assays are included for comparative analysis.
True Patient Specimens: Unique, individual plasma members confirmed positive for SARS-CoV-2 antibodies
Highly Characterized: Comprehensive data sheet with results from leading commercially available assays for SARS-CoV-2 antibody detection
Out-of-the-box Solution: Ideal for quickly and consistently performing assay validation, verification, and installation
Product Description
Material Numbers
Configuration
Fill Size
AccuSet SARS-CoV-2 Performance Panel
0820-0410

10 positive members
1 negative member

1.0 mL
Not for In Vitro Diagnostic Use. Research Use Only.
---
function resizeCTA(){
jQuery(".em_ctab__cta_main_container").each(function(){
var containerHeight = jQuery(this).outerHeight(); var containerWidth = jQuery(this).width();
var content = jQuery(this).find('.em_ctab__cta_content p'); var button = jQuery(this).find('.em_ctab__cta_button');
button.css('top', (containerHeight/2 - button.outerHeight()/2) );
var marginRight = button.outerWidth() + 25;
content.css('margin-right', marginRight);
});
}
jQuery( window ).resize(function() { resizeCTA(); });
jQuery(document).ready(function(){ resizeCTA(); });
Go Back