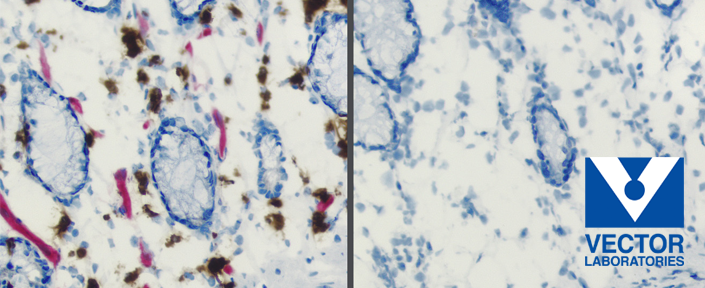 Blocking Reagents Tips
Last updated: 02nd February, 2022
Products are for professional/laboratory use only.
We've got solutions to your background problems!
Clean, reliable, reproducible results can be attained by using appropriate detection reagents, running informative negative controls, and choosing the right blocking solutions. Negative controls will help determine the factors that contribute most to background staining. An appropriate series of controls is outlined in Vector's Trouble Shooting Guide (available for free download or as a convenient laminated copy for the lab).
Blocking agents are chosen based on results from these negative control sections, and the appropriate ones can prevent background interference from different sources including endogenous enzyme activity, presence of Fc receptors, or interactions of detection reagents with tissue/cell proteins and other macromolecules. The chart below suggests the blocking reagents suitable to reduce background staining.
Tissues can contain endogenous peroxidase, pseudoperoxidase, and/or alkaline phosphatase activity that will produce background staining if an alkaline phosphatase and/or peroxidase detection system and corresponding substrates are used. BLOXALL™ Endogenous Peroxidase and Alkaline Phosphatase Blocking Solution (SP-6000) is a dual enzyme blocking reagent that inactivates endogenous peroxidase, pseudoperoxidase, and alkaline phosphatase in formalin-fixed, paraffin-embedded tissue sections, frozen tissue sections, and cell preparations in a single 10 minute incubation step.
Background due to non-specific protein interactions between detection reagents and tissue elements can be minimized by applying different protein blocking solutions.  Normal sera is widely used as a general protein block. Generally, the serum species used for blocking should match the species of the secondary antibody.  This ensures that the serum block itself does not introduce background staining.
Other protein blocking solution alternatives are BSA (SP-5050), Carbo-Free Blocking Solution (SP-5040), 10x Casein Solution (SP-5020), or Animal-Free Blocker (SP-5030).  BSA and Carbo-Free Blocking Solution are recommended for lectin staining or in multiplex IHC applications where lectins are used for at least one label because these solutions do not contain interfering glycoproteins.  Casein Solution or Animal-Free Blocker may be preferred in multiplex IHC applications where primaries or secondaries from multiple species are used.  Both solutions do not contain animal immunoglobulins which may be non-specifically bound by the secondary antibodies.
In applications where mouse primary antibodies are used on mouse tissues, Mouse on Mouse (M.O.M.™) Blocking Reagent is used to block endogenous mouse antibody in the tissue section and is a key component of the M.O.M.™ Kits.
Avidin/Biotin Blocking Kit (SP-2001) blocks all endogenous biotin, biotin receptors, and avidin binding sites present in tissues. This kit is designed for use with avidin detection systems such as the VECTASTAIN® ABC Kits if avidin or biotinylated reagents bind non-specifically to tissues or proteins.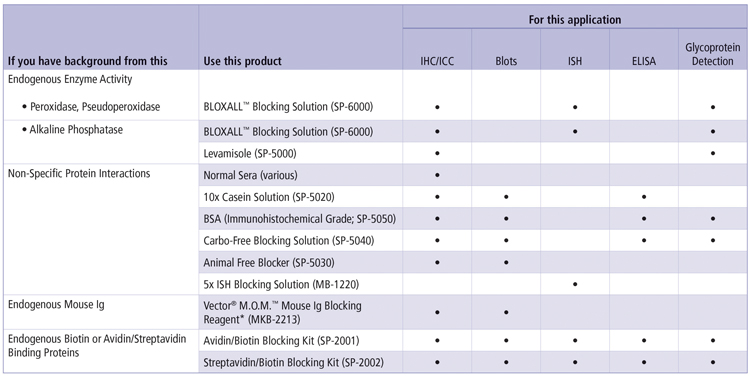 Article originally posted on Vector Laboratories website.
function resizeCTA(){
jQuery(".em_ctab__cta_main_container").each(function(){
var containerHeight = jQuery(this).outerHeight(); var containerWidth = jQuery(this).width();
var content = jQuery(this).find('.em_ctab__cta_content p'); var button = jQuery(this).find('.em_ctab__cta_button');
button.css('top', (containerHeight/2 - button.outerHeight()/2) );
var marginRight = button.outerWidth() + 25;
content.css('margin-right', marginRight);
});
}
jQuery( window ).resize(function() { resizeCTA(); });
jQuery(document).ready(function(){ resizeCTA(); });
Go Back