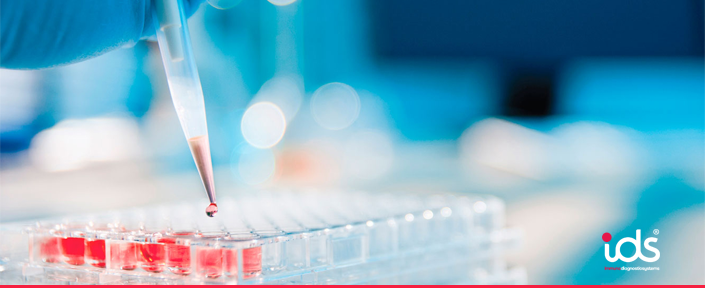 IDS – Specialised EIA and RIA Immunoassays for your research
Last updated: 02nd February, 2022
Products are for professional/laboratory use only.
IDS portfolio of specialised EIA and RIA immunoassays delivers innovative solutions for labs worldwide.
With a portfolio including cartilage markers, growth assays, research assays and a complete bone metabolism offering, IDS provides clinicians and researchers with an effective complement to automated immunoassays.
Product Portfolio:
Animal Research
A complete panel of bone and cartilage turnover markers reflecting the processes in formation and degradation3 of cartilage in different animal species, from rodents to mammals.
Bone Turnover Markers
A full panel of bone turnover markers (BTM's) for translational research, including both bone resorption (C-terminal telopeptides (CTX-I)), bone formation markers (Procollagen type 1 propeptides (PINP)), and Osteocalcin and osteoclast markers (tartrate-resistant-acid phosphatase 5b (TRAcP5b)), adequate for cell culture, animal models, human research and routine clinical laboratories.
Other
Researchers active in bone cell cultures have access to the IDS bone cell culture plate consisting of two types of bone materials across a 96 well format plate. Corticosterone products are manufactured by IDS to help clients provide research services to their customers; such as Bone Slices, Dentine Slices, Corticosterone, Corticosterone HS.

---
function resizeCTA(){
jQuery(".em_ctab__cta_main_container").each(function(){
var containerHeight = jQuery(this).outerHeight(); var containerWidth = jQuery(this).width();
var content = jQuery(this).find('.em_ctab__cta_content p'); var button = jQuery(this).find('.em_ctab__cta_button');
button.css('top', (containerHeight/2 - button.outerHeight()/2) );
var marginRight = button.outerWidth() + 25;
content.css('margin-right', marginRight);
});
}
jQuery( window ).resize(function() { resizeCTA(); });
jQuery(document).ready(function(){ resizeCTA(); });
Go Back