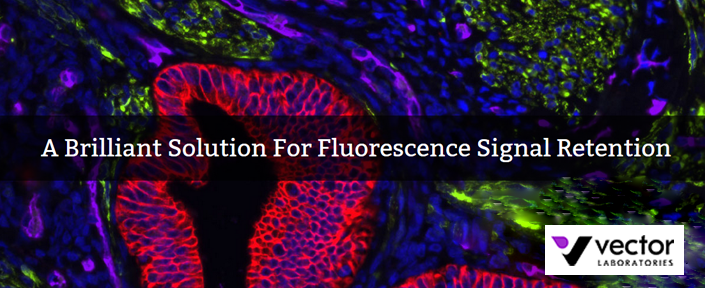 Introducing VECTASHIELD Vibrance Antifade Mounting Media
Last updated: 22nd March, 2022
Products are for professional/laboratory use only.
VECTASHIELD Vibrance products are completely new formulations of curing antifade mounting media for immunofluorescence applications.
These newest additions to our VECTASHIELD portfolio were developed with customer feedback to improve on parameters such as ease of use and retention of specific staining intensity over time. VECTASHIELD Vibrance Antifade Mounting Media are new tools to help investigators see more and do more with each experiment. 
Why VECTASHIELD Vibrance Mounting Media?
Superior antifade/anti-photobleaching properties across the spectrum
Compatibility with commonly used fluorophores
View sections one hour after mounting
No tone or autofluorescent background, even after curing
Room temperature storage of slides with extended archiving time
Minimal bubble formation, even after several weeks storage
Curing formulations with choice of counterstain (DAPI) or no counterstain
12 month product expiration date
Summary of VECTASHIELD® Vibrance™ Advantages Over Competitor Mounting Media

Easy Application and Use of VECTASHIELD Vibrance
Viewable in as Little as One Hour After Mounting – No Need to Wait 24 Hours
Competitor immunofluorescence workflows recommend slides be viewed 24 hours after mounting. VECTASHIELD Vibrance Mounting Media, however, allow same-day viewing to accelerate discovery without sacrificing signal intensity or retention.
Improved retention of fluorescence with VECTASHIELD Vibrance Mounting Medium. Serial sections of human colon tissue (FFPE) stained for cytokeratin (mouse primary antibody AE1/AE3) and detected with fluorescein-conjugated horse anti-mouse IgG secondary antibody (FI-2000). One hour after mounting with either VECTASHIELD Vibrance (top row) or a competitor mounting medium (bottom row), the sections were imaged at the intervals indicated. Note the improved retention of fluorescent signal for sections mounted with VECTASHIELD Vibrance Mounting Medium.
function resizeCTA(){
jQuery(".em_ctab__cta_main_container").each(function(){
var containerHeight = jQuery(this).outerHeight(); var containerWidth = jQuery(this).width();
var content = jQuery(this).find('.em_ctab__cta_content p'); var button = jQuery(this).find('.em_ctab__cta_button');
button.css('top', (containerHeight/2 - button.outerHeight()/2) );
var marginRight = button.outerWidth() + 25;
content.css('margin-right', marginRight);
});
}
jQuery( window ).resize(function() { resizeCTA(); });
jQuery(document).ready(function(){ resizeCTA(); });
Go Back