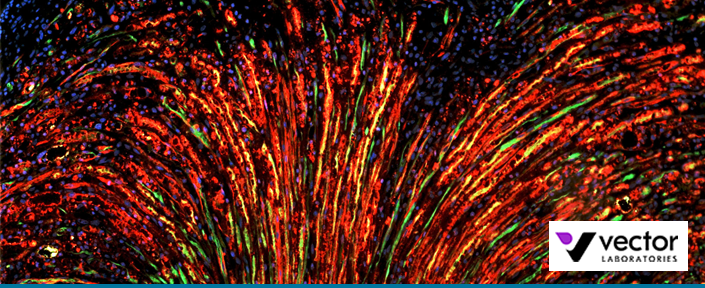 Is your fluorescence fading before your eyes?
Last updated: 22nd March, 2022
Products are for professional/laboratory use only.
Improve image retention with VECTASHIELD antifade mounting media
Fluorophores are susceptible to photobleaching and fading so choosing an effective mounting medium is especially important for IF imaging.
VECTASHIELD formulations offer unsurpassed protection against fading and photobleaching, while providing excellent signal retention for image acquisition and specimen archiving.
You've done all the work—now let us help you preserve your images. With over 60,000 references, VECTASHIELD is the most widely referenced antifade mounting media available.
Preserve and Protect!
| | | |
| --- | --- | --- |
| | | |
| Mouse bladder tissue section after sub-total cystectomy showing uroplakin/mCherry expression (red), and alpha smooth muscle actin (green). Mounted with VECTASHIELD Vibrance with DAPI (blue). Image provided by Kristina Stumpf, Wake Forest Institute for Regenerative Medicine. | Mouse embryonic fibroblast stained with mouse anti-tubulin followed by fluorescein horse anti-mouse IgG and mounted with VECTASHIELD HardSet with DAPI (blue) and VECTASHIELD HardSet with TRITC-Phalloidin (orange). | Human embryonic stem cell (hESC)-derived neurons stained with Brn3a (Green), Peripherin (Red), Beta-3 Tubulin (Magenta), and mounted with VECTASHIELD with DAPI (blue).  Image provided by Michael Yee, University of Pittsburgh. |
---
Click below to explore the VECTASHIELD product line:
H-1700: VECTASHIELD Vibrance (hardening, no counterstain)
H-1800: VECTASHIELD Vibrance (hardening, with DAPI counterstain)
H-1000: VECTASHIELD (non-hardening, no counterstain)
H-1200: VECTASHIELD with DAPI (non-hardening, with DAPI counterstain)
H-1300: VECTASHIELD with PI (non-hardening, with PI counterstain)
H-1400: VECTASHIELD HardSet (hardening, no counterstain)
H-1500: VECTASHIELD HardSet with DAPI (hardening, with DAPI counterstain)
H-1600: VECTASHIELD HardSet with Phalloidin (hardening, with TRITC-Phalloidin counterstain)
---
| | |
| --- | --- |
| Product Code | Description |
| VEH17002 | VECTASHIELD® Vibrance (2mL) |
| VEH170010 | VECTASHIELD® Vibrance™ (10mL) |
| VEH18002 | VECTASHIELD® Vibrance with DAPI (2mL) |
| VEH180010 | VECTASHIELD® Vibrance™ with DAPI (10mL) |
| VEH1000 | Vector VECTASHIELD® Mounting Medium (10mL) |
| VEH1200 | Vector VECTASHIELD® with DAPI (10mL) |
| VEH1300 | Vector VECTASHIELD® Vibrance™  with Propidium Iodide (PI) (10mL) |
| VEH1400 | Vector VECTASHIELD® HardSet™ Mounting Medium (10mL) |
| VEH1500 | Vector VECTASHIELD® HardSet™ with DAPI (10mL) |
| VEH1600 | VECTASHIELD® HardSet™ with TRITC-Phallodin (10mL) |
function resizeCTA(){
jQuery(".em_ctab__cta_main_container").each(function(){
var containerHeight = jQuery(this).outerHeight(); var containerWidth = jQuery(this).width();
var content = jQuery(this).find('.em_ctab__cta_content p'); var button = jQuery(this).find('.em_ctab__cta_button');
button.css('top', (containerHeight/2 - button.outerHeight()/2) );
var marginRight = button.outerWidth() + 25;
content.css('margin-right', marginRight);
});
}
jQuery( window ).resize(function() { resizeCTA(); });
jQuery(document).ready(function(){ resizeCTA(); });
Go Back