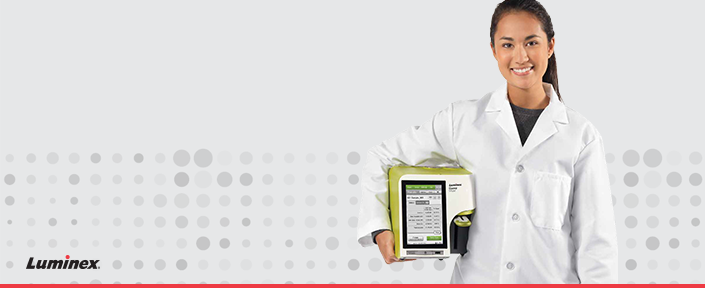 Meet the Muse – Tiny but Mighty
Last updated: 11th September, 2019
Meet your Muse® – a robust, compact and affordable instrument for automated cell analysis.
Assessment of cell concentration and viability are at the core of most cell biology experiments including investigating cell proliferation rates, optimising growth conditions and normalizing cell data for further studies such as assessing the impacts of cytotoxic compounds.
Traditional manual techniques are extremely time consuming and require a high degree of technical competence to generate reproducible data. There are so many variables in play and it is not uncommon to see a high degree of variation among researchers with different experience levels.
Current automated methods rely on multiple platforms to provide these answers. This reduces flexibility, limits the ability to obtain comprehensive cell health information and adds increased costs to researchers. Popular methods such as image-based analysis of Trypan blue-stained samples produce inconsistent results due to their dependence upon single-uptake dyes that do not effectively discriminate between the various states of cellular demise. Furthermore, in many cases extensive specialised training is required to operate these platforms efficiently (e.g. conventional Flow Cytometry).
Therefore, there is a crucial need for analytical tools that provide rapid, robust and reproducible count and viability data to enable the efficient, daily execution of cellular research.
The Muse™ Cell Analyzer is a unique instrument that enables multidimensional cell health analysis on a single platform. It offers several advantages such as:
Simplified format enables researchers of varying experience levels to obtain a comprehensive picture of cellular health
Effortless acquisition and analysis of samples using mix-and-read assays
Highly simplified and intuitive touchscreen interface delivers rapid measurements of cell concentration, viability, apoptotic status, and cell cycle distribution
Highly sensitive, accurate and rapid detection using minimal cell numbers
Superior precision compared to traditional methods
---
What method do you currently use for fundamental cell counting, cell health, and signaling assays? See comparison and advantages of Muse assays below: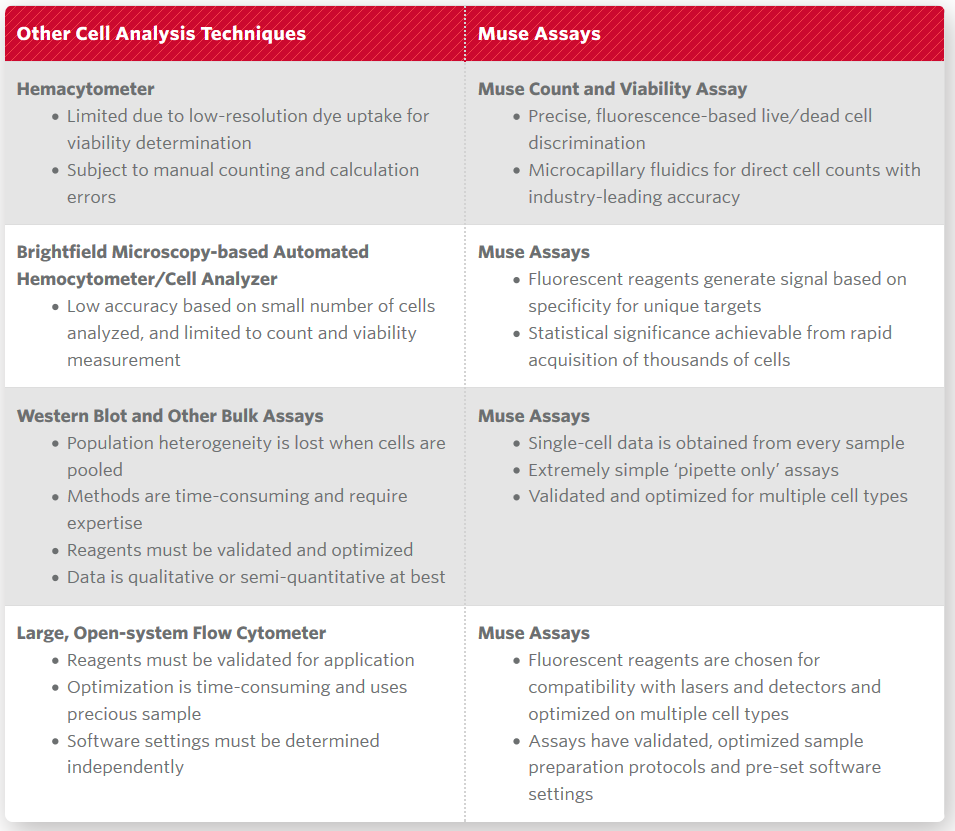 ---
Simple analysis using mix-and-read assays:
---
Discover Muse® Big 3 Assays. Click on the links below if to find out more about what makes these cell health assays so popular:
By making cell health analysis simple, affordable and easily accessible, the Muse™ Cell Analyzer can help integrate cell health analysis into everyday cell culture workflows.
---
Go Back