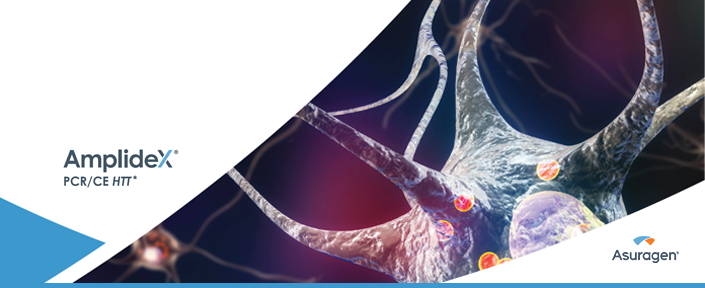 Asuragen announce the launch of AmplideX® PCR/CE HTT kit for Huntington's disease
Last updated: 02nd May, 2019
Abacus dx would like to update you with the latest product from Asuragen.
Asuragen have recently announced the launch of AmplideX® PCR/CE HTT kit for Huntington's disease. This kit simplifies the detection and sizing of the CAG trinucleotide repeats in the HTT gene by overcoming the challenges of adjacent SNPs and variable CGG repeats which can complicate primer binding and cause allele dropouts.
The assay, which is optimised for use on widely established CE systems and requires minimal hands-on time, provides an easy-to-implement solution for laboratories to analyse the CAG repeats in the HTT gene without the need for multiple PCRs.
Benefits of AmplideX® PCR/CE HTT Kit include: 
Reduced complexity: a PCR solution for GC-rich amplification and detection which eliminates the need for multiple PCR resulting in a straight forward analysis
Quality results: the unique two-primer design provide reliable, unambiguous results and a robust stutter peak pattern
Similar workflow to AmplideX® FMR1 and DMPK assays to ease implementation and testing
All-inclusive kit which includes all reagents necessary to confirm presence of CAG expansions in HTT
Please note this kit is currently for Research Use Only (RUO). 
---
Go Back