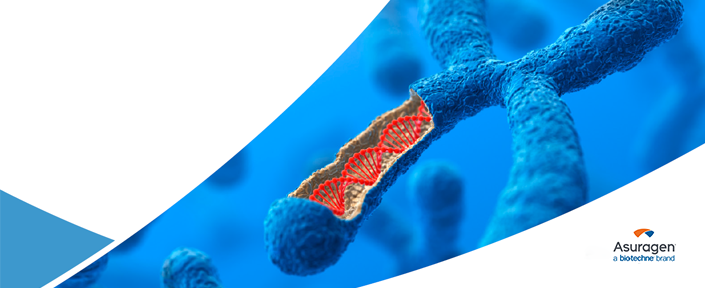 Asuragen: FragileX
Last updated: 25th January, 2022
Products are for professional/laboratory use only.
The AmplideX® suite of products is designed to solve unmet testing needs in inherited genetic disorders. The technology overcame a 20-year challenge by reliably amplifying the FMR1 gene. This allowed researchers to gain a deeper understanding of fragile X syndrome, the most common known inherited cause of intellectual disability and autism.
AmplideX® FMR1 PCR: (CE IVD)
The AmplideX FMR1 PCR is a tool to amplify and detect the CGG repeat region in the 5′-untranslated region of the fragile X mental retardation-1 (FMR1) gene.
Reproducible detection of all allele expansions including low abundance full mutation size mosaics with up to at least 1300 CGG.
Definitive resolution of female homozygous and heterozygous samples and indication of interrupting AGG sequences.
Reduced need for Southern blot analysis by as much as 10 to 50 fold and up to 875 fold more sensitive than Southern blot.
AmplideX® FMR1 mPCR: (RUO)
This kit is a research tool that utilises an innovative PCR-only approach for the detection of methylation status of the FMR1 gene.
Determines methylation status and quantifies methylation of each allele
Improves turnaround time by 5-fold (compared to Southern Blot)
Simplified PCR-only workflow completely eliminates the need for Southern Blot.
Detects lower abundance methylation and size mosaic alleles
AmplideX® Controls
AmplideX controls are a propriety mixture of genomic DNA containing multiple alleles. These well characterised controls can be used as process controls covering multiple size ranges and different methylation states in the FMR1 gene.
2 controls available

Process Control
Methylation & Sensitivity Control

Ready-to-use
Characterised as CGG repeats or % methylation
Single control covering multiple size ranges in FMR1 gene
function resizeCTA(){
jQuery(".em_ctab__cta_main_container").each(function(){
var containerHeight = jQuery(this).outerHeight(); var containerWidth = jQuery(this).width();
var content = jQuery(this).find('.em_ctab__cta_content p'); var button = jQuery(this).find('.em_ctab__cta_button');
button.css('top', (containerHeight/2 - button.outerHeight()/2) );
var marginRight = button.outerWidth() + 25;
content.css('margin-right', marginRight);
});
}
jQuery( window ).resize(function() { resizeCTA(); });
jQuery(document).ready(function(){ resizeCTA(); });
Go Back