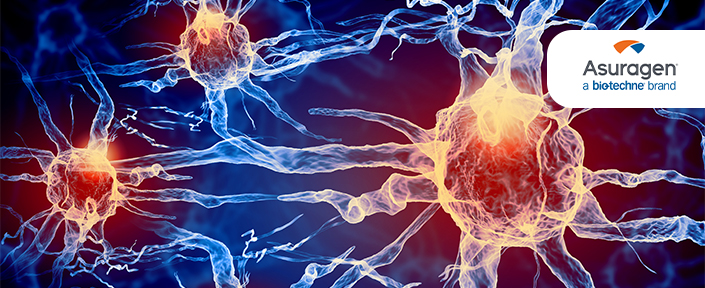 Asuragen revolutionise testing of the SMN1 and SMN2 genes
Last updated: 30th June, 2022
Products are for professional/laboratory use only.
The AmplideX® PCR/CE SMN1/2 Plus Kit* is an in vitro nucleic acid amplification kit intended to aid in the screening of carriers for and diagnosis of spinal muscular atrophy (SMA).
Asuragen's AmplideX PCR/CE SMN1/2 Plus Kit*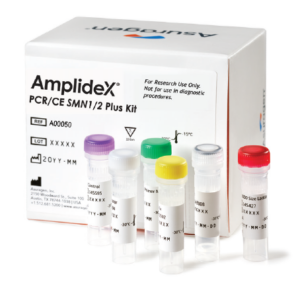 The kit quantifies the number of copies of exon 7 of both SMN1 and SMN2 reported as 0, 1, 2, 3, or ≥ 4 genomic copies. The kit is designed for PCR with extracted genomic DNA from human whole blood performed on standard laboratory-validated thermal cyclers, followed by resolution on a general laboratory-validated genetic analyzer or capillary electrophoresis (CE) platform.
Additionally, the kit identifies chimeric genes with both SMN1 and SMN2 sequences, and detects variants SMN1 c.*3+80T>G and SMN1 c.*211_*212del, which are associated with SMN1 gene duplication and "silent carrier" status, as well as variant SMN2 c.859G>C, which is associated with a milder disease phenotype.
---
Why choose Amplidex?

Reduced Complexity
Ease of data analysis and reporting
One kit to identify SMA patients, carriers (including detection of variants associated with silent carriers), and refine disease prognosis – all from a single PCR reaction
Similar workflow to AmplideX PCR/CE FMR1 kit eases implementation and training
Assay-specific software automates results reporting and streamlines data analysis
Optimized Workflow
Reduces valuable operator hands-on-time and overall turnaround time
Diagnostic and screening results are reported in less than four hours with only 60 minutes of hands-on-time
Scalable workflow supports high sample throughput testing
Optimized for use on widely installed CE equipment
Quality Performance
Comprehensive analysis of SMN1 and SMN2 genes for the diagnosis and screening of SMA
High resolution of SMN1/2 copy number across a broad range improves accuracy in identifying SMA patients and carriers
Excellent concordance of copy number and variant results compared to multiple orthogonal test methods
---
Analytical Performance
Automated and streamlined reporting of SMN1 and SMN2 copy number and variant detection via AmplideX Reporter Software
Provide critical test results from a single reaction — and all in less than four hours
Excellent concordance of SMN1 and SMN2 copy number results to sites' in-house methods for over 400 replicates
High assay specificity permits detection of SMN1–SMN2 hybrid peaks, including those resulting from gene conversion events
100% agreement observed between Sanger sequencing and AmplideX SMA Plus Kit for detection of SMN1 gene duplication and SMN2 disease modifier variants
---
Related products
*Research use only
function resizeCTA(){
jQuery(".em_ctab__cta_main_container").each(function(){
var containerHeight = jQuery(this).outerHeight(); var containerWidth = jQuery(this).width();
var content = jQuery(this).find('.em_ctab__cta_content p'); var button = jQuery(this).find('.em_ctab__cta_button');
button.css('top', (containerHeight/2 - button.outerHeight()/2) );
var marginRight = button.outerWidth() + 25;
content.css('margin-right', marginRight);
});
}
jQuery( window ).resize(function() { resizeCTA(); });
jQuery(document).ready(function(){ resizeCTA(); });
Go Back