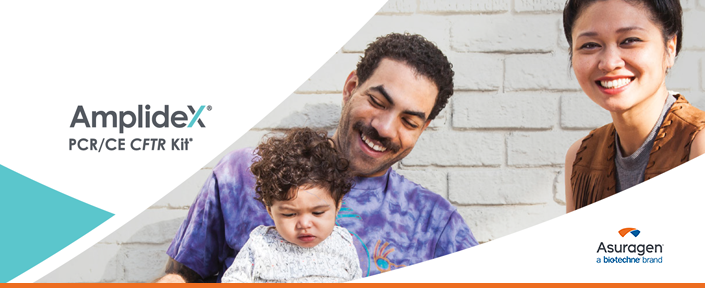 Asuragen's AmplideX® PCR/CE CFTR Kit – Quality over Quantity
Last updated: 07th July, 2023
Products are for professional/laboratory use only.
Cystic fibrosis (CF) is a life-limiting, autosomal recessive disease caused by the presence of pathogenic alterations in the CFTR gene. While CFTR variants are prevalent in Caucasian and Ashkenazi Jewish populations, they also occur in other groups. Furthermore, recent studies show that many existing CFTR mutation panels do not include mutations frequently found in other ethnicities1, which can lead to reduced detection rates in diverse populations.
Improve your CFTR detection rate for the Australian population!
Informed by recent large-scale, population studies1, Asuragen's AmplideX® PCR/CE CFTR Kit* has been designed to detect at least 90% of the pathogenic CFTR variants observed in the Australian population**.
Most common pathogenic variants based on population2:
| | | |
| --- | --- | --- |
| Caucasian | East Asian | South East Asian |
| F508del | G622D | G622D |
| R117H | R1070Q | R1070Q |
| D1152H | F508del | F508del |
| G542X | G970D | V456A |
---
Does your current method include these variants?
The assay also includes push-button data analysis software to provide a simple, streamlined, and scalable testing solution that delivers meaningful results in under five hours. The test shares a common workflow with other FMR1 and SMN1/2 assays in the AmplideX TRIO portfolio and is optimised for use on widely established laboratory equipment.
---
Features & Benefits
Reduced Complexity
Broad coverage using only PCR/CE workflow
Similar testing process to AmplideX PCR/CE FMR1 and SMN1/2 Plus kits eases implementation
Streamlined data analysis via AmplideX Reporter software
Optimised Workflow
Easy-to-use workflow with fewer hands on steps than most competitor assays
Flexible use on widely installed CE equipment
Less than 5 hours from DNA to data
Quality Results
Built on the latest prevalence data to provide the best coverage for the most frequent ethnicities
Detects complex yet key CFTR mutations (STRs, SNPs, INDELs) and resolves zygosity
Excellent concordance with other methods
---
Analytical Performance
Figure 1. Testing Workflow for AmplideX PCR/CE CFTR Kit.

---
Contact us now to learn more about the quality variants included in Asuragen's AmplideX® PCR/CE CFTR assay!
---
References:
Beauchamp et al. "Sequencing as a first-line methodology for cystic fibrosis carrier screening." Genet Med 21, 2569-2576 (2019). Download here →
Westemeyer et al. "Clinical experience with carrier screening in a general population: support for a comprehensive pan-ethnic approach." Genet Med 22, 1320–1328 (2020). Download here →
*Research Use Only
**This calculation is based on theoretical coverage based on gnomAD data and Australian ethnicity breakdown from the Australian Bureau of Statistics 2021 census data
function resizeCTA(){
jQuery(".em_ctab__cta_main_container").each(function(){
var containerHeight = jQuery(this).outerHeight(); var containerWidth = jQuery(this).width();
var content = jQuery(this).find('.em_ctab__cta_content p'); var button = jQuery(this).find('.em_ctab__cta_button');
button.css('top', (containerHeight/2 - button.outerHeight()/2) );
var marginRight = button.outerWidth() + 25;
content.css('margin-right', marginRight);
});
}
jQuery( window ).resize(function() { resizeCTA(); });
jQuery(document).ready(function(){ resizeCTA(); });
Go Back