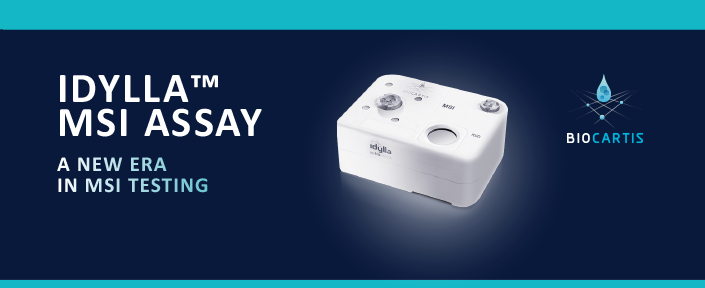 Biocartis announces CE-IVD marking of its Idylla™ MSI Test
Last updated: 02nd February, 2022
Products are for professional/laboratory use only.
Biocartis Group NV, an innovative molecular diagnostics company (Euronext Brussels: BCART), today announces the CE-IVD marking of its fully automated Idylla™ MSI Test which allows for fast and accurate information on a patient's MSI status directly from a single sample of FFPE[1] colorectal cancer tumor tissue. This CE-IVD launch is a key addition to Biocartis' colorectal cancer (CRC) Idylla™ test menu as MSI detection is currently recommended for all patients with CRC[2].
MSI is the result of inactivation of the body's so-called DNA mismatch repair (MMR) system. Consequently, errors that normally spontaneously occur during DNA replication are no longer corrected, contributing to tumor growth and evolution. MSI-High status is found in about 15% of CRC tumors[3]. About 16% of these MSI-High colorectal cancers may be associated with Lynch Syndrome3, which is one of the most common hereditary cancer syndromes and results in a significantly increased risk of developing CRC or other cancers such as endometrial or breast cancer[4].
MSI testing today is recommended for all colorectal and endometrial cancers[5] but is still underused since current methods are highly complex. The Idylla(TM) MSI Test has been developed to overcome these drawbacks. It is a fully automated test that provides information on the MSI status[6] (i.e. Microsatellite Instability-High (MSI-H) or Microsatellite Stable (MSS)) of CRC tumors within approximately 150 minutes from just one slice of FFPE1 tumor tissue, without the need of a reference sample. The test shows high concordance[7] (>97%) and lower failure rates compared to standard methods. The unique aspects of the Idylla(TM) MSI Test could enable a broader penetration of MSI testing.
Herman Verrelst, Chief Executive Officer of Biocartis, commented: "We are excited to announce today the CE-IVD marking of the Idylla™ MSI Test which is now available for clinical use in CRC patients. This test truly matches the mission of Biocartis to make innovative MDx testing accessible to all patients worldwide. Thanks to the unique features of this test, MSI testing is now easy, rapid and accessible to a much larger patient population."
In addition to applications for CRC, MSI is believed to be an independent factor that may predict a patient's response to certain immunotherapies[8]. As such, expansion opportunities for the Idylla™ MSI Test into that domain will be explored in the future.
---
---
[1] FFPE = formalin fixed, paraffin embedded.
[2] Source: NCCN Guidelines, https://www.nccn.org/patients/guidelines/colon/22/, last consulted on 20 February 2019.
[3] An MSI test looks for changes in the DNA sequence between normal tissue and tumor tissue and can identify whether or not there is high amount of instability, which is called MSI-High. MSI testing with CRC patients is important to see if the CRC is hereditary (meaning the patient has Lynch syndrome), because in such case there is a risk that their family members could also have an increased chance of developing colorectal or other tumors. Source: https://fightcolorectalcancer.org/fight/diagnosis/what-is-msi-and-mss/ and https://www.asco.org/about-asco/press-center/news-releases/genomic-study-finds-lynch-syndrome-common-among-people-msi, last consulted on 7 February 2019.
[4] Source: https://www.cancer.net/cancer-types/lynch-syndrome, last consulted on 20 February 2019.
[5] Source: ASCO guidelines, www.asco.org/endorsements/HereditaryCRC.
[6] Clinical Performance Study showed 99,7% concordance for MSI testing vs Promega (unpublished data); De Craene et al. (2018) Journal of Clinical Oncology 36:15 suppl, e15639; De Craene et al. (2017) Annals of Oncology 28 (suppl_5): v209-v268; Maertens et al. (2017) Annals of Oncology 28 (suppl_5): v22-v42.
[7] The Idylla(TM) MSI Test uses a new set of short homopolymers located in the ACVR2A, BTBD7, DIDO1, MRE11, RYR3, SEC31A & SULF2 genes, which were exclusively licensed to Biocartis in 2013 from VIB, the life sciences research institute in Flanders (Belgium), and originated from the research of the group of Prof. Diether Lambrechts (VIB-KU Leuven, Belgium). These MSI biomarkers are tumor-specific, show a high frequency in colorectal and endometrial cancers and are stable across different ethnicities ensuring excellent specificity of the assay.
[8] In a recent study in collaboration with Prof. Diether Lambrechts (VIB-KU Leuven, Belgium) presented at ASCO, the number of Idylla(TM) MSI Biomarkers were shown to be associated with total indel load and tumor mutational burden in endometrial tumors and in colorectal cancer (source: Zhao et al. J Clin Oncol 36, 2018 (suppl; abstr e15654).
function resizeCTA(){
jQuery(".em_ctab__cta_main_container").each(function(){
var containerHeight = jQuery(this).outerHeight(); var containerWidth = jQuery(this).width();
var content = jQuery(this).find('.em_ctab__cta_content p'); var button = jQuery(this).find('.em_ctab__cta_button');
button.css('top', (containerHeight/2 - button.outerHeight()/2) );
var marginRight = button.outerWidth() + 25;
content.css('margin-right', marginRight);
});
}
jQuery( window ).resize(function() { resizeCTA(); });
jQuery(document).ready(function(){ resizeCTA(); });
Go Back