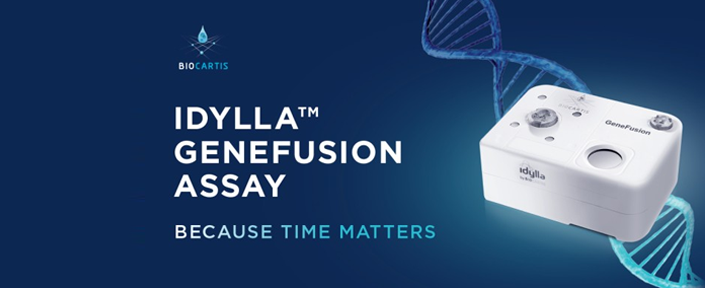 Biocartis Idylla™ GeneFusion Assay*
Last updated: 10th November, 2023
Products are for professional/laboratory use only.
Within 180 minutes and with less than 2 minutes hands-on time, the fully automated Idylla™ GeneFusion cartridge detects ALK, ROS1, RET, NTRK1/2/3 rearrangements and MET exon 14 skipping in a single cartridge using only 1-3* FFPE tissue sections.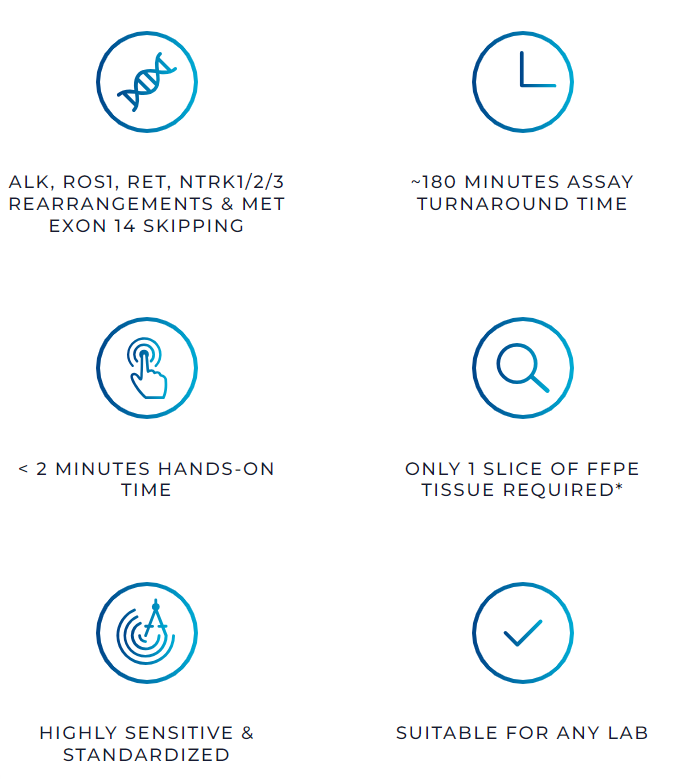 ---
DETECTION OF KNOWN AND NOVEL FUSIONS
The new Idylla™ GeneFusion Assay is a unique combination of 2 detection technologies:
Direct Detection: Highly sensitive detection of known fusion isoforms by RT-qPCR of sample RNA.
Expression Imbalance Analysis: Detection of fusion events without knowledge of the fusion partners by analyzing expression ratios between the 5' and 3' ends of the gene.
---
SPECIMEN REQUIREMENTS
One of the biggest challenges in oncology biomarker testing is the ability to obtain samples of sufficient size and quality. With the Idylla™ system only a minimal amount of sample is needed:
If ≥ 20 mm² tissue area -> 1 x 5 μm FFPE tissue section
If < 20 mm² tissue area -> 3 x 5 μm FFPE tissue sections
≥ 10% neoplastic cell content
---
*Research use only
function resizeCTA(){
jQuery(".em_ctab__cta_main_container").each(function(){
var containerHeight = jQuery(this).outerHeight(); var containerWidth = jQuery(this).width();
var content = jQuery(this).find('.em_ctab__cta_content p'); var button = jQuery(this).find('.em_ctab__cta_button');
button.css('top', (containerHeight/2 - button.outerHeight()/2) );
var marginRight = button.outerWidth() + 25;
content.css('margin-right', marginRight);
});
}
jQuery( window ).resize(function() { resizeCTA(); });
jQuery(document).ready(function(){ resizeCTA(); });
Go Back