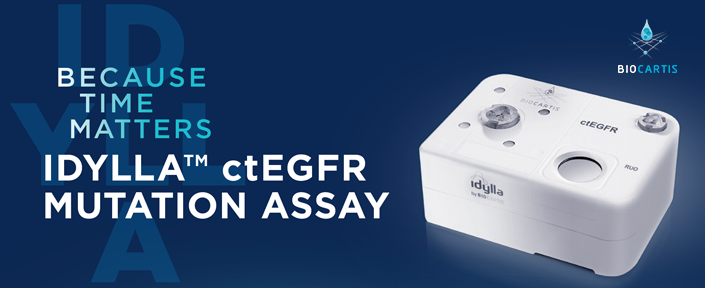 Biocartis Launches Liquid Biopsy Idylla™ ctEGFR Mutation Assay (RUO)
Last updated: 02nd February, 2022
Products are for professional/laboratory use only.
Biocartis is pleased to announce the launch of the Idylla™ ctEGFR Mutation Assay (RUO1). This assay is the liquid biopsy version of the solid biopsy Idylla™ EGFR Mutation Test (CE-IVD).
The Idylla™ ctEGFR Mutation Assay (RUO) is a liquid biopsy assay, performed on Biocartis' Idylla™ platform, which allows the detection of 49 EGFR mutations2 directly from 2mL of blood plasma and provides results within approximately 160 minutes.
During the recent European Society for Medical Oncology (ESMO) Congress3, a first performance study4 was published on the prototype liquid biopsy Idylla™ ctEGFR Mutation Assay. The study included 64 non-small cell lung cancer (NSCLC) samples and concluded that the prototype Idylla™ ctEGFR Mutation Assay detected all mutations previously detected by the comparison method (Next-Generation Sequencing or NGS5).  

For research use only – Not for use in diagnostic procedures.
---
1 RUO = Research Use Only, not for use in diagnostic procedures
2 Including insertions and deletions in exon 18, 19, 20 and 21 in the EGFR gene
3 27 September – 1 October 2019 in Barcelona (Spain)
4 Study conducted by Biocartis: Reijans et al., ESMO 2019
5 Sensitivity 2-5%  
function resizeCTA(){
jQuery(".em_ctab__cta_main_container").each(function(){
var containerHeight = jQuery(this).outerHeight(); var containerWidth = jQuery(this).width();
var content = jQuery(this).find('.em_ctab__cta_content p'); var button = jQuery(this).find('.em_ctab__cta_button');
button.css('top', (containerHeight/2 - button.outerHeight()/2) );
var marginRight = button.outerWidth() + 25;
content.css('margin-right', marginRight);
});
}
jQuery( window ).resize(function() { resizeCTA(); });
jQuery(document).ready(function(){ resizeCTA(); });
Go Back