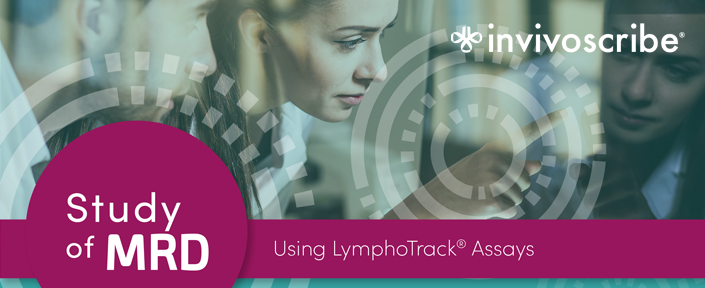 Invivoscribe launches MRD T-Cell Bundled Solution
Last updated: 02nd February, 2022
Products are for professional/laboratory use only.
Abacus dx is pleased to announce the launch of the Invivoscribe MRD T-Cell Bundled Solution* which includes LymphoTrack T-Cell Low Positive Controls, LymphoQuant T-Cell Internal Controls and NGS-powered LymphoTrack Dx Assays. The new Research Use Only (RUO) controls are optimised for T-cell receptor gene rearrangement testing and analysis with Invivoscribe's complimentary LymphoTrack MRD Software.
Key Benefits of the LymphoTrack MRD Bundled Solution
Use LymphoTrack Dx Assays for clonality assessment and for MRD tracking
LymphoTrack Low Positive Control provides confidence in results.
LymphoQuant Internal Control enables conversion of sequencing reads into clonotype cell equivalents for accurate tracking over time without any additional sequencing cost.
LymphoTrack MRD Software sorts complex multiplexed NGS data for simplified analysis and visualisation of longitudinal samples.
Objectively identify and monitor sequence specific mutation status of TR gene rearrangements using the same LymphoTrack Dx Assays. 
The LymphoTrack MRD T-cell controls are validated for use with the MiSeq® (TRG and TRB Assays) and Ion S5™/Ion PGM™ (TRG Assay) systems.
MRD Bundled Solution for Monitoring
The MRD Bundle contains the necessary external and internal controls, master mixes and software to identify and assess mutation status of T-cell gene rearrangements in haematologic samples.  Invivoscribe has demonstrated mean sensitivity of 10-4 across TRG and 10-3 across TRB during performance testing of Low Positive Controls.  Furthermore, the LymphoTrack Dx Assays demonstrated excellent linearity (R2 > 0.99) and agreement with the expected values when contrived samples were spiked with LymphoQuant T-cell Internal Control and tested from 10-2 to 10-5.
---
*Each product available for separate purchase only and when used altogether forms a solution for MRD testing.  Please check regulatory requirements in your country.
---
function resizeCTA(){
jQuery(".em_ctab__cta_main_container").each(function(){
var containerHeight = jQuery(this).outerHeight(); var containerWidth = jQuery(this).width();
var content = jQuery(this).find('.em_ctab__cta_content p'); var button = jQuery(this).find('.em_ctab__cta_button');
button.css('top', (containerHeight/2 - button.outerHeight()/2) );
var marginRight = button.outerWidth() + 25;
content.css('margin-right', marginRight);
});
}
jQuery( window ).resize(function() { resizeCTA(); });
jQuery(document).ready(function(){ resizeCTA(); });
Go Back