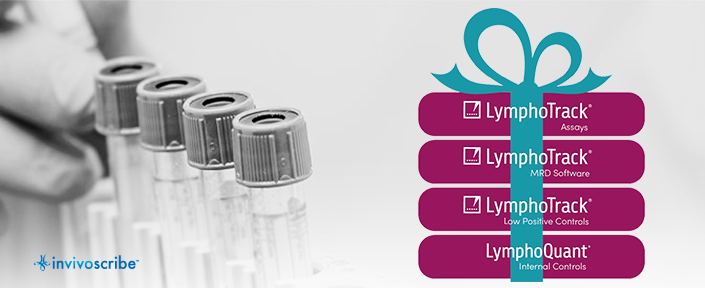 Invivoscribe MRD controls NOW AVAILABLE
Last updated: 02nd February, 2022
Products are for professional/laboratory use only.
Abacus dx is pleased to announce the launch of the new LymphoTrack B-cell Low Positive Controls and LymphoQuant B-cell Internal Controls as part of Invivoscribe's MRD B-Cell Bundled Solution.
These new Research Use Only (RUO) controls are optimised for Ig gene rearrangement testing and analysis with the complimentary LymphoTrack MRD Software. NGS-based post-remission MRD surveillance may help predict relapse earlier than less sensitive methods and has the potential to improve pre-emptive therapy strategies.
Key Benefits of the LymphoTrack MRD Bundled Solution
With the LymphoTrack Dx Assays, the same reagents and workflow can be utilised for Ig clonality assessment, somatic hypermutation analysis and for Minimal Residual Disease (MRD) tracking of clonal populations
LymphoTrack Low Positive Control provides confidence in results
LymphoQuant Internal Control enables conversion of sequencing reads into clonotype levels for accurate tracking
The easy to use LymphoTrack MRD Software sorts complex multiplexed NGS data for simplified analysis and visualisation of longitudinal samples
The LymphoTrack MRD B-cell controls are now validated for use with the MiSeq®, Ion S5™ and Ion PGM™ systems
MRD Bundled Solution for Clonality Assessment and Monitoring
The MRD Bundle contains the necessary external and internal controls, master mixes and software to identify and assess mutation status of B-cell gene rearrangements in hematologic samples.  Invivoscribe has demonstrated mean sensitivity of 10-4 across IGHV Leader, IGH FR1, FR2, FR3 and IGK during performance testing of Low Positive Controls.  Furthermore, the LymphoTrack Assays demonstrated excellent linearity (R2 > 0.98) and agreement with the expected values when contrived samples were spiked with LymphoQuant B-cell Internal Control and tested from 10-2 to 10-6.
---
---
* MRD testing with the LymphoTrack MRD Bundled Solution which includes LymphoTrack MRD Software, LymphoTrack B-cell Low Positive Controls and LymphoQuant B-cell Internal Controls is for Research Use Only (RUO). Not for use in diagnostic procedures.
function resizeCTA(){
jQuery(".em_ctab__cta_main_container").each(function(){
var containerHeight = jQuery(this).outerHeight(); var containerWidth = jQuery(this).width();
var content = jQuery(this).find('.em_ctab__cta_content p'); var button = jQuery(this).find('.em_ctab__cta_button');
button.css('top', (containerHeight/2 - button.outerHeight()/2) );
var marginRight = button.outerWidth() + 25;
content.css('margin-right', marginRight);
});
}
jQuery( window ).resize(function() { resizeCTA(); });
jQuery(document).ready(function(){ resizeCTA(); });
Go Back