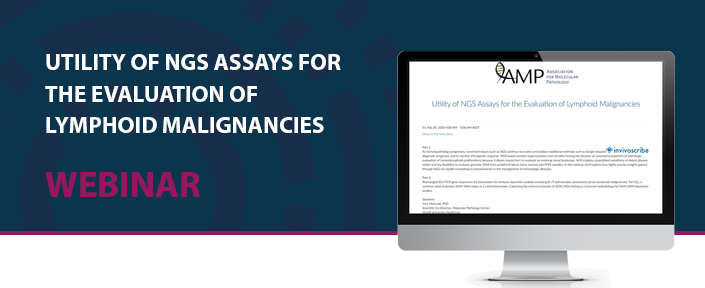 Utility of NGS Assays for the Evaluation of Lymphoid Malignancies – Webinar
Last updated: 02nd February, 2022
Products are for professional/laboratory use only.
This webinar will explore how insights gained through NGS translate to the development of improved treatment of lymphoid malignancies.
As haematopathology progresses, novel techniques such as NGS continue to evolve and replace traditional methods such as Sanger Sequencing, PCR and flow cytometry. NGS enables unparalleled sensitivity to detect molecular biomarkers in genomic DNA. NGS-based SHM and clonality testing have become essential components in the evaluation of haematolymphoid proliferations, as it provides researchers a comprehensive view of an ever changing clonal landscape.
Rearranged IGH/TCR gene sequences may serve as useful biomarkers to establish clonality in clinically suspected malignant lymphoid infiltrates. For CLL, the most common adult leukaemia, IGHV SHM status has been evaluated as a critical prognostic indicator. MRD is also emerging as an important biomarker to develop clinical management strategies in ALL, multiple myeloma and other lymphoid malignancies
Speakers:
Yury Monczak, PhD
Scientific Co-Director, Molecular Pathology Center
McGill University Healthcare
Jewish General Hospital
Assistant Professor, McGill University
Montreal, Canada
Bevan Tandon, MD
Director, Cancer Genomics
BioReference Laboratories, an OPKO Health Company
New Jersey, USA
Date & Time:
Please note, this webinar will go live on February 28 at:
4.00am AEST  |  5:00am AEDT  |  7.00am NZDT
Webinar Recording:
The webinar will be recorded and available to watch on-demand through the AMP website.
function resizeCTA(){
jQuery(".em_ctab__cta_main_container").each(function(){
var containerHeight = jQuery(this).outerHeight(); var containerWidth = jQuery(this).width();
var content = jQuery(this).find('.em_ctab__cta_content p'); var button = jQuery(this).find('.em_ctab__cta_button');
button.css('top', (containerHeight/2 - button.outerHeight()/2) );
var marginRight = button.outerWidth() + 25;
content.css('margin-right', marginRight);
});
}
jQuery( window ).resize(function() { resizeCTA(); });
jQuery(document).ready(function(){ resizeCTA(); });
Go Back