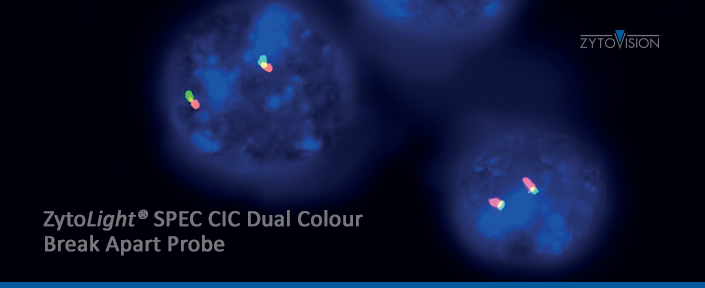 ZytoVision FISH detection of CIC gene
Last updated: 22nd June, 2022
Products are for professional/laboratory use only.
The ZytoLight ® SPEC CIC Dual Color Break Apart Probe is designed to detect translocations involving the chromosomal region 19q13.2 harbouring the CIC gene. Rearrangements involving the CIC gene are frequently found in EWSR1-negative small blue round cell tumours (SBRCT) which arise in soft tissues of children and young adults and have been described as aggressive tumours with an inferior overall survival compared to Ewing sarcoma (EWS).
The CIC-DUX4 gene fusion is the most frequent genetic event in EWSR-1 negative SBRCT resulting from either a t(4;19)(q35;q13.2) or a t(10;19)(q26.3;q13.2).
CIC rearrangements have also been found in other tumour entities such as lung cancer and medulloblastomas and other fusion partners besides DUX4 are known (FOXO4, LEUTX).
As CIC-DUX4-positive patients do not respond well to the common forms of EWS treatment, and show a poor overall survival, novel therapy approaches are needed to treat this type of aggressive tumours. Hence, the detection of CIC translocations by Fluorescence in situ Hybridization (FISH) may be of prognostic and therapeutic relevance.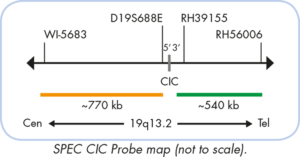 Ordering information:
| | |
| --- | --- |
| Product code | Description |
| ZYZ228550 | ZytoLight SPEC CIC Dual Color Break Apart Probe, 5 tests |
| ZYZ228550RUO* | ZytoLight SPEC CIC Dual Color Break Apart Probe, 5 tests (RUO) |
*Australia only
Please check regulatory status in your country.
function resizeCTA(){
jQuery(".em_ctab__cta_main_container").each(function(){
var containerHeight = jQuery(this).outerHeight(); var containerWidth = jQuery(this).width();
var content = jQuery(this).find('.em_ctab__cta_content p'); var button = jQuery(this).find('.em_ctab__cta_button');
button.css('top', (containerHeight/2 - button.outerHeight()/2) );
var marginRight = button.outerWidth() + 25;
content.css('margin-right', marginRight);
});
}
jQuery( window ).resize(function() { resizeCTA(); });
jQuery(document).ready(function(){ resizeCTA(); });
Go Back