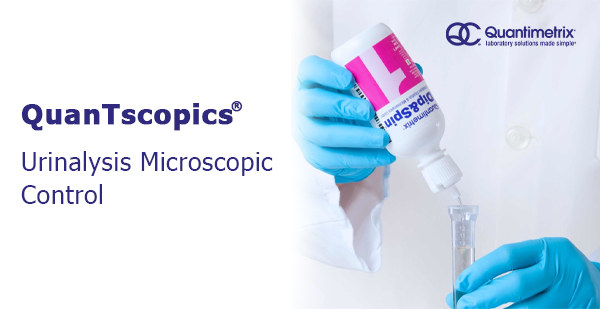 QuanTscopics® Urinalysis Microscopic Control
Last updated: 08th March, 2022
Products are for professional/laboratory use only.
Formulated with real human RBCs and WBCs, QuanTscopics makes for a cost-effective way to monitor the performance of urinalysis sediment for both manual and automated microscopy methods. Quantimetrix includes qualitative and quantitative values for standardized urinalysis systems and analyzers. The control features easy-to-use squeeze bottles for simple dispensing.
Liquid, made with human urine
24-month refrigerated shelf life from date of manufacture.
24-month refrigerated OVS (or until expiration date)
1-month OVS at Room Temperature
Instrument List: AVE-764B, BC Iris, Cen-Slide, Electronica 77 UriSed, FischerBrand UriSystem, Mindray EH-2030, EH2050A Plus, EH-2050B Plus, EH-2080B, EH-2080C, Sysmex UF-1000i
QuanTscopics Analytes
Crystals
Red Blood Cells
White Blood Cells
QuanTscopics Ordering Information
| | | |
| --- | --- | --- |
| Product Code | Contents  | Format  |
| QM1481-41 | Level 1 | 4 x 120mL |
| QM1482-41 | Level 2 | 4 x 120mL |
*Limited samples available.
function resizeCTA(){
jQuery(".em_ctab__cta_main_container").each(function(){
var containerHeight = jQuery(this).outerHeight(); var containerWidth = jQuery(this).width();
var content = jQuery(this).find('.em_ctab__cta_content p'); var button = jQuery(this).find('.em_ctab__cta_button');
button.css('top', (containerHeight/2 - button.outerHeight()/2) );
var marginRight = button.outerWidth() + 25;
content.css('margin-right', marginRight);
});
}
jQuery( window ).resize(function() { resizeCTA(); });
jQuery(document).ready(function(){ resizeCTA(); });
Go Back