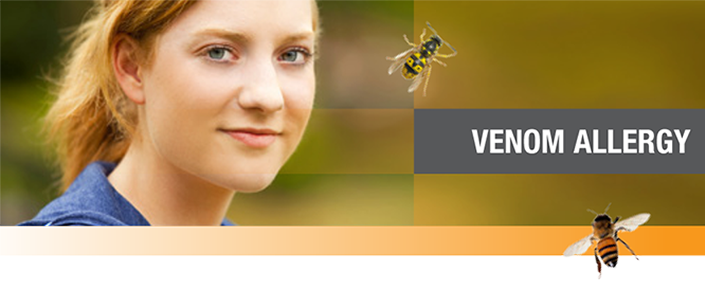 New ImmunoCAP Bee Venom Components
Last updated: 03rd February, 2022
Products are for professional/laboratory use only.
Discover the new ImmunoCAP bee venom components
Patients with primary bee sensitization may test negative for Api m 1 but positive for other bee venom components.
Api m 10 can be absent or/underrepresented in VIT extracts – VIT of patients sensitized to this component may be less efficient.
Adding venom components rApi m 2, rApi m 5 and rApi m 10 to your test panel improves diagnostic specificity and supports more well-founded decisions for VIT.
Successful venom immunotherapy (VIT) is more likely when treatment selection is based on genuine sensitization to bee and/or wasp venom.
ImmunoCAP Allergen Components help you resolve double positivity
Distinguish between true co-sensitization to bee and wasp, and CCD-dependent cross reactivity
Honey bee: rApi m 1, rApi m 2, rApi m 5 and rApi m 10
Common/paper wasp: rVes v 1, rVes v 5, rPol d 5
Help match venom immunotherapy to the patient's sensitization profile
A broad toolbox of ImmunoCAP  allergen components
Over 100 allergen components that can help you:
Assess risk of systemic reactions in patients with food allergy
Explain symptoms due to cross-reactivity
Identify the appropriate immunotherapy for the individual patient
---
References
Biló B et al & EAACI Interest Group on Insect Venom Hypersensitivity. Diagnosis of Hymenoptera venom allergy. Allergy 2005; 60: 1339–1349.
Bonifazi F et al & EAACI Interest Group on Insect Venom Hypersensitivity. Prevention and treatment of hymenoptera venom allergy: guidelines for clinical practice. Allergy 2005; 60: 1459–
Müller U. et al, Hymenoptera venom allergy: analysis of double positivity to honey bee and Vespula venom by estimation of IgE antibodies to species-specific major allergens Api m 1 and Ves v 5. Allergy 2009; 64: 543–548.
Spillner E. et al., Hymenoptera allergens: from venom to "venome". Frontiers in immunology 2014; 5: 1-7.
Mittermann I et al. Recombinant allergen-based IgE testing to distinguish bee and wasp allergy. J Allergy Clin Immunol 2010; 125: 1300–1307.
Blank S. et al., Api m 10, a genuine A. mellifera venom allergen, is clinically relevant but underrepresented in therapeutic extracts. Allergy 2011; 66: 1322-1329
Grunwald T. et al., Molecular cloning and expression in insect cells of honeybee venom allergen acid phosphatase (Api m 3). J Allergy Clin Immunol 2006; 117: 848-54.
Köhler J et al. Component resolution reveals additional major
function resizeCTA(){
jQuery(".em_ctab__cta_main_container").each(function(){
var containerHeight = jQuery(this).outerHeight(); var containerWidth = jQuery(this).width();
var content = jQuery(this).find('.em_ctab__cta_content p'); var button = jQuery(this).find('.em_ctab__cta_button');
button.css('top', (containerHeight/2 - button.outerHeight()/2) );
var marginRight = button.outerWidth() + 25;
content.css('margin-right', marginRight);
});
}
jQuery( window ).resize(function() { resizeCTA(); });
jQuery(document).ready(function(){ resizeCTA(); });
Go Back