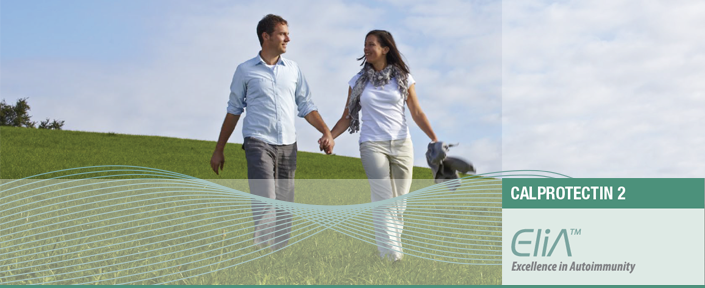 Publication of the Month – Progress in search for IBD relapse prediction
Last updated: 02nd February, 2022
Products are for professional/laboratory use only.
Title: Can faecal calprotectin predict relapse in inflammatory bowel disease: a mini review
Author: Chew TS, Mansfield JC
Journal: Frontline Gastroenterology 2018;9:23-28 doi:10.1136/flgastro-2016-100686
Fecal calprotectin (FC) is an indicator of inflammation, elevated levels are indicative of any of the different patterns of mucosal inflammatory activity which are a feature of inflammatory bowel disease (IBD). Changes in fecal calprotectin levels may be more predictive of a relapse than absolute values.
The review has retrospectively analysed 17 studies looking at FC levels in relapsing and remission groups of patients with IBD.  The definitions of relapse vary considerably among the papers cited and, as can be seen from the cut-offs used, many different methods for quantifying FC have been used. Sensitivity for detecting a defined relapse ranged from 31% to 100% while the specificity went from 43% to 100%.  The majority of studies found a significantly higher baseline FC level in patients who subsequently relapsed compared with those who did not.  In an ongoing study, fecal marker of intestinal inflammation for relapse prediction in routine monitoring of patients with CD (FIRE), has similar findings but also reflects the difficulty of using FC to predict relapse in a multifaceted disorder as CD.  In using FC to detect postoperative recurrence in CD, several papers have found a correlation between FC levels and disease recurrence as well as a lowering of FC levels in patients with reduced or absent symptoms postoperatively.  A publication by Wright et al. showed that increasing treatment in patients with endoscopic recurrences resulted in a reduction of FC levels at 12 and 18 months.
Rule out inflammatory bowel diseases safely and efficiently using EliA Calprotectin 2.
EliA Calprotectin 2 offers a complete solution: from stool extraction to automated sample measurement.
Advantages of the EliA Calprotectin 2:
Rule out IBD safely and efficiently
Clear differentiation between IBD and IBS and other functional bowel disorders
Early diagnostic guidance
Second generation test for superior performance
Adds flexibility to your lab routine
Completely automated and efficient testing on the Phadia for more efficient workflow and reporting of results 
Add-on to the EliA gastro panel on Phadia Laboratory Systems to complete the full EliA gastroenterology offering.
---
function resizeCTA(){
jQuery(".em_ctab__cta_main_container").each(function(){
var containerHeight = jQuery(this).outerHeight(); var containerWidth = jQuery(this).width();
var content = jQuery(this).find('.em_ctab__cta_content p'); var button = jQuery(this).find('.em_ctab__cta_button');
button.css('top', (containerHeight/2 - button.outerHeight()/2) );
var marginRight = button.outerWidth() + 25;
content.css('margin-right', marginRight);
});
}
jQuery( window ).resize(function() { resizeCTA(); });
jQuery(document).ready(function(){ resizeCTA(); });
Go Back