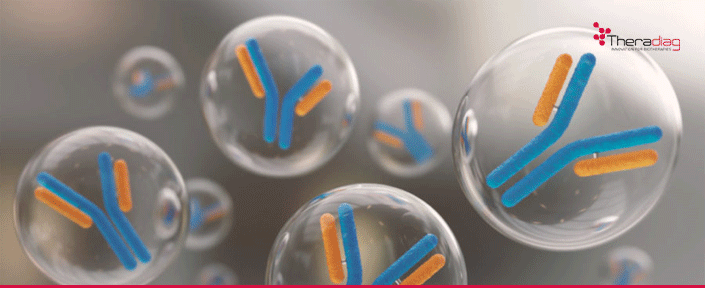 Therapeutic Drug Monitoring (TDM) of Biologics with Theradiag
Last updated: 17th February, 2022
Products are for professional/laboratory use only.
TDM in Chronic Inflammatory Diseases (CID)
Biologic therapies, and notably Monoclonal antibodies (mAbs) and Fusion Proteins (FP), have revolutionised the management of CID, such as Inflammatory Bowel Disease, Rheumatoid Arthritis, Ankylosing Spondylitis, Psoriasis and Psoriatic Arthritis that affect millions of people worldwide.
These drugs have the potential to alter the natural history of these progressive diseases. Unfortunately, primary non-response (PNR) and secondary loss or response (SLR) to biologics occur in a significant proportion of patients. Remission is achieved in only approximately 40 % of patients treated by biologics and in those who reached remission, the annual rate of Loss of Response (LOR) is more than 10%.
TDM, whereby measurements of biologic drug levels and antibodies against the biologic, is now seen as one of the cornerstones of personalised medicine used to improve the treatment of CID.
Reactive TDM involves patients with manifest treatment failure, either PNR or SLR. It provides information about the cause of treatment failure and offers a rationale for subsequent therapeutic decisions to recapture response. Superiority of reactive TDM over standard treatment is well documented and now is being recommended in guidelines for patient management.
Similarly, proactive TDM is a complementary approach provided to patients in remission and aims to adjust biologic treatment intensity according to individual pharmacokinetic and pharmacodynamic conditions. It helps to minimize the risk of later treatment failure linked to underexposure to the biologic, and to reduce treatment intensity to save costs in case of overexposure. Proactive TDM is emerging as new standard of care.
The use of TDM either reactively or proactively has also proven to be a cost-effective strategy to reduce the high burden cost of CID.
Improve biotherapies clinical benefits while minimising costs and side effects

Theradiag, as a pioneer and leader in the monitoring of Biologics, offers a full range of products to monitor patients with CID and treated by biologics or biosimilars:
Adalimumab (anti-TNFα)
Etanercept (anti-TNFα)
Certolizumab-pegol (anti-TNFα)
Golimumab (anti-TNFα)
Infliximab (anti-TNFα)
Rituximab (anti-CD20)
Secukinumab (anti-IL17A)
Tocilizumab (anti-IL6R)
Ustekinumab (anti-IL12-IL23)
Vedolizumab (anti-integrin α4β7)
function resizeCTA(){
jQuery(".em_ctab__cta_main_container").each(function(){
var containerHeight = jQuery(this).outerHeight(); var containerWidth = jQuery(this).width();
var content = jQuery(this).find('.em_ctab__cta_content p'); var button = jQuery(this).find('.em_ctab__cta_button');
button.css('top', (containerHeight/2 - button.outerHeight()/2) );
var marginRight = button.outerWidth() + 25;
content.css('margin-right', marginRight);
});
}
jQuery( window ).resize(function() { resizeCTA(); });
jQuery(document).ready(function(){ resizeCTA(); });
Go Back