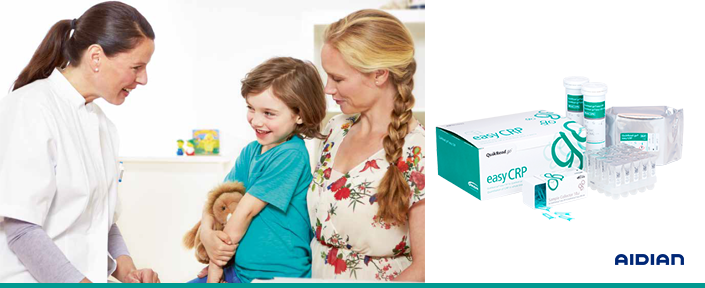 Aidian QuikRead go easy CRP
Last updated: 12th November, 2020
Products are for professional/laboratory use only.
The QuikRead go easy CRP is an easy to use and reliable point-of-care test, which gives quantitative CRP test results within 2 minutes.
The unique one-step Sample Collector used with the QuikRead go easy CRP minimizes hands-on steps and enables fast and easy CRP testing.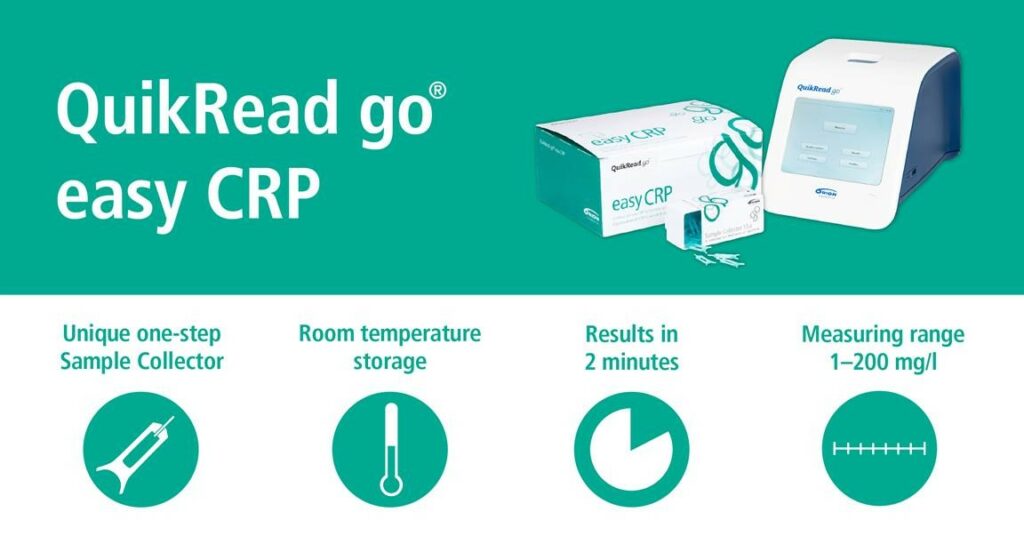 Unique one-step Sample Collector
Fast and easy sample collection improves workflow
Convenient for the patient
Room temperature storage up to +25 °C
Easy to store in the health care unit
Enables immediate use, no need to warm up the reagents
Reliable CRP results in minutes
CRP measuring range from whole blood  is 1−200 mg/l and 1−120 mg/l with serum or plasma samples
QuikRead go multianalyte point-of-care system
Portable and fully automatic point-of-care system
Bi-directional connectivity to most HIS and LIS systems
Reducing antibiotic prescription rates
Using Quikread go CRP test in GP clinics and ECU departments has been proven to lower antibiotic prescription rates by up to 17% through differentiation between viral and bacterial infections
---
function resizeCTA(){
jQuery(".em_ctab__cta_main_container").each(function(){
var containerHeight = jQuery(this).outerHeight(); var containerWidth = jQuery(this).width();
var content = jQuery(this).find('.em_ctab__cta_content p'); var button = jQuery(this).find('.em_ctab__cta_button');
button.css('top', (containerHeight/2 - button.outerHeight()/2) );
var marginRight = button.outerWidth() + 25;
content.css('margin-right', marginRight);
});
}
jQuery( window ).resize(function() { resizeCTA(); });
jQuery(document).ready(function(){ resizeCTA(); });
Go Back