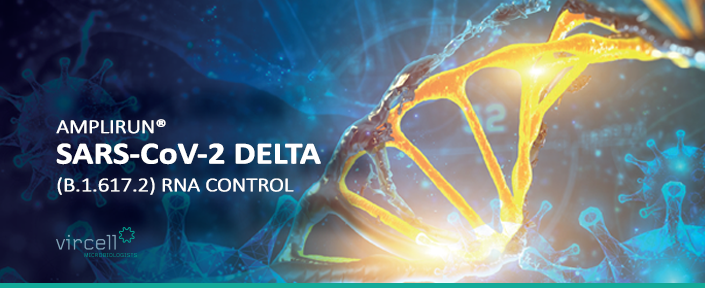 New AMPLIRUN® SARS-CoV-2 DELTA (B.1.617.2) RNA CONTROL
Last updated: 21st July, 2021
Products are for professional/laboratory use only. Purified RNA of coronavirus SARS-CoV-2 lineage B.1.617.2 (also known as Delta, G/478K.V1 or Indian variant) to be used to control techniques based in nucleic acids amplification.
Complete genome RNA control for SARS-CoV-2 B.1.617.2 (DELTA) lineage.
Any target can be amplified.
It allows validation of RTPCR assays for SARS-CoV-2 DELTA detection.
Precise concentration in copies/µl verified by Digital Droplet PCR (ddPCR).
RNA origin from cultivated clinical isolate- sequence available.
Non-infectious material with inactivation certificate.
Lyophilized presentation.
Independent third-party control valid for any molecular testing platform.
Ordering information
Product code: VCMBC141R
Product description: AMPLIRUN® SARS-CoV-2 DELTA (B.1.617.2) RNA CONTROL
Size: 1 vial with lyophilized control +1 vial with 500 µl of molecular grade water
Storage:  Special transport conditions not required. Store the lyophilized vial at 2-8ºC inside the foil pouch. Once the pouch is opened, reconstitute the lyophilized vial immediately and store between -70ºC and -90ºC after reconstitution.
---
function resizeCTA(){
jQuery(".em_ctab__cta_main_container").each(function(){
var containerHeight = jQuery(this).outerHeight(); var containerWidth = jQuery(this).width();
var content = jQuery(this).find('.em_ctab__cta_content p'); var button = jQuery(this).find('.em_ctab__cta_button');
button.css('top', (containerHeight/2 - button.outerHeight()/2) );
var marginRight = button.outerWidth() + 25;
content.css('margin-right', marginRight);
});
}
jQuery( window ).resize(function() { resizeCTA(); });
jQuery(document).ready(function(){ resizeCTA(); });
Go Back