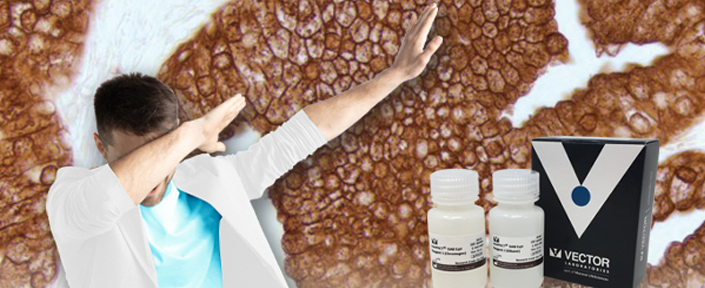 Do you know the new way to DAB?
Last updated: 03rd February, 2022
Products are for professional/laboratory use only.
You've probably figured out we're not releasing a new dance move… But we are spreading the news of a simpler and safer way to mix DAB substrate!
Why are you weighing volatile DAB powder and wasting time dissolving tablets? Simply mix liquid ImmPACT® DAB EqV, 1:1 (chromogen:diluent) and apply to sections.
ImmPACT DAB EqV is the most sensitive and convenient DAB format available for IHC staining.
Vector DAB Features:
Deep brown-coloured precipitate, suitable for all HRP systems
No buffers needed
Working solution stable for two weeks when stored at 4ºC
New convenient size available
function resizeCTA(){
jQuery(".em_ctab__cta_main_container").each(function(){
var containerHeight = jQuery(this).outerHeight(); var containerWidth = jQuery(this).width();
var content = jQuery(this).find('.em_ctab__cta_content p'); var button = jQuery(this).find('.em_ctab__cta_button');
button.css('top', (containerHeight/2 - button.outerHeight()/2) );
var marginRight = button.outerWidth() + 25;
content.css('margin-right', marginRight);
});
}
jQuery( window ).resize(function() { resizeCTA(); });
jQuery(document).ready(function(){ resizeCTA(); });
Go Back