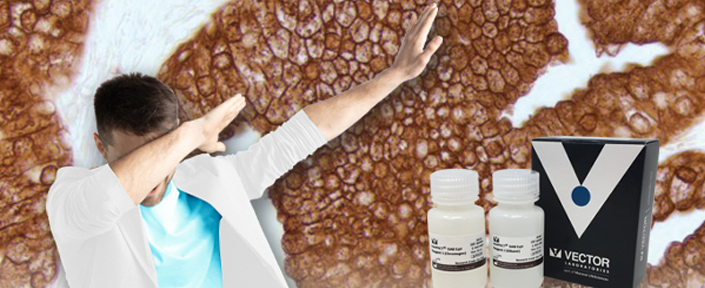 Do you know the new way to DAB?
Last updated: 25th February, 2020
You've probably figured out we're not releasing a new dance move… But we are spreading the news of a simpler and safer way to mix DAB substrate!
Why are you weighing volatile DAB powder and wasting time dissolving tablets? Simply mix liquid ImmPACT® DAB EqV, 1:1 (chromogen:diluent) and apply to sections.
ImmPACT DAB EqV is the most sensitive and convenient DAB format available for IHC staining. For a limited time, receive 10% off your order of ImmPACT DAB EqV (SK-4103)*.
Please use the promotional code DABSUCCESS when placing orders.
Vector DAB Features:
Deep brown-coloured precipitate, suitable for all HRP systems
No buffers needed
Working solution stable for two weeks when stored at 4ºC
New convenient size available
Terms & Conditions
All orders must be received by COB 31st March 2020
The relevant promotional code must be clearly stated when ordering
Offer is for 10% off list price, no further discounts apply
Not to be used in conjunction with any other offers
Discount does not apply to packing, shipping, and handling
Go Back