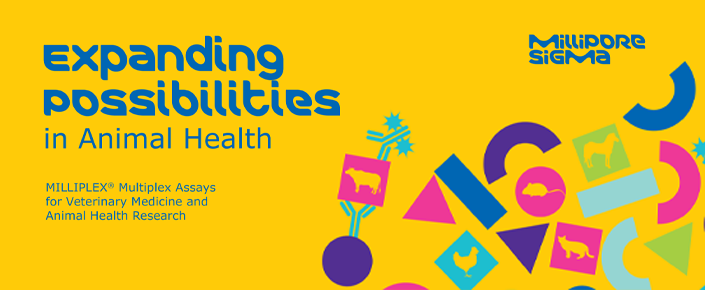 Expanding Possibilities in Animal Health
Last updated: 22nd April, 2022
Products are for professional/laboratory use only.
Multiplex assays simplified the discovery and understanding of complex biological systems and processes in veterinary medicine, animal health, animal models, and human health.
Multiplex Biomarker Detection immunoassays save time, money, and sample volume by increasing the number of data points generated from a single assay.
MILLIPLEX® kits can analyse the following animal species:
Agricultural Animals
Laboratory Animals
Companion Animals 
– Bovine
– Equine
– Porcine
– Ovine
– Chicken
– Mouse
– Rat
– Non-Human Primate
– Canine
– Feline
Look closer:
Ovine Cytokine/Chemokine Panel 1: Cat. No. SCYT1-91K →
Chicken Cytokine/Chemokine Panel 1: Cat. No. GCYT1-16K → 
Bovine Cytokine/Chemokine Panel 1: Cat. No. BCYT1-33K →
Canine Pituitary Expanded Panel: Cat. No. CANPIT-96K →
Non-Human Primate Cytokine/Chemokine/Growth Factor Panel A: Cat. No. PRCYTA-40K →
function resizeCTA(){
jQuery(".em_ctab__cta_main_container").each(function(){
var containerHeight = jQuery(this).outerHeight(); var containerWidth = jQuery(this).width();
var content = jQuery(this).find('.em_ctab__cta_content p'); var button = jQuery(this).find('.em_ctab__cta_button');
button.css('top', (containerHeight/2 - button.outerHeight()/2) );
var marginRight = button.outerWidth() + 25;
content.css('margin-right', marginRight);
});
}
jQuery( window ).resize(function() { resizeCTA(); });
jQuery(document).ready(function(){ resizeCTA(); });
Go Back