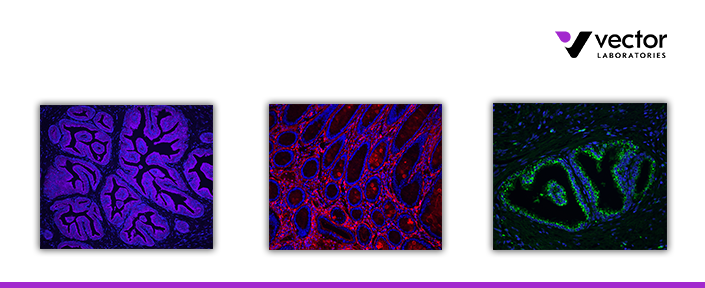 Glysite Scout, Glycan Screening Kits from Vector
Last updated: 17th August, 2022
Products are for professional/laboratory use only.
Vector Laboratories announce three new products:
The kits contain diverse panel of glycan binders (lectins) ideal for the preliminary screening of tissue samples with unknown glycosylation changes with specificity to mannose, complex N-glycan, core O-glycan, fucose, sialic acid, sulfation, GlcNAc, chitin, Gal, and LacNAc.
Also, the kits include optimized immunofluorescence reagents for glycan detection, as blocking solutions, Streptavidin DyLight and VECTASHIELD Vibrance Antifade Mounting Media with DAPI.
Validated on human and mouse tissues including Formalin-Fixed Paraffin-Embedded tissue.
These versatile kits are flexible to meet your needs.​
Glysite Scout Glycan Screening Kits, Immunofluorescence are available with 3 fluorophore options, 488 (GSK-3000), 594 (GSK-2000), and 649 (GSK-1000).
function resizeCTA(){
jQuery(".em_ctab__cta_main_container").each(function(){
var containerHeight = jQuery(this).outerHeight(); var containerWidth = jQuery(this).width();
var content = jQuery(this).find('.em_ctab__cta_content p'); var button = jQuery(this).find('.em_ctab__cta_button');
button.css('top', (containerHeight/2 - button.outerHeight()/2) );
var marginRight = button.outerWidth() + 25;
content.css('margin-right', marginRight);
});
}
jQuery( window ).resize(function() { resizeCTA(); });
jQuery(document).ready(function(){ resizeCTA(); });
Go Back