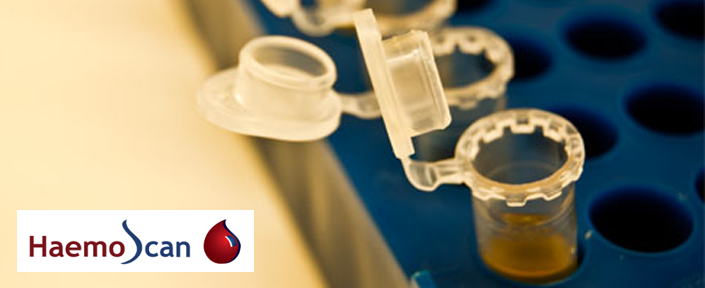 Abacus dx now distributes the HaemoScan range of products
Last updated: 03rd February, 2022
Products are for professional/laboratory use only.
Abacus dx are pleased to announce that we are now distributing the HaemoScan range of products in Australia and New Zealand.

HaemoScan is an innovative company in the field of biomarker analysis and has developed many assays to measure complement activity.
The kits provide a quick and simple test procedure based on measurement of complement haemolytic activity for the classical (CH50) and alternative (AP50) pathways of complement. Both citrate plasma or serum can be used.
Designed for small sample volumes (50µl or less), they are simple to measure using a 96 well microtiter plate and a spectrophotometer.
HaemoScan offer the following research products:
AP50 Assay
CH50 Assay
Complement Convertase Assay
Haemolysis Assay
High Intensity Chemiluminescence ELISA Substrate
N-Acetyl-glucosaminidase Assay
Thrombin Generation Assay
Other complement products available from Abacus dx include MILLIPLEX Human Complement Panels 1 & 2.  Click here to find out more >
function resizeCTA(){
jQuery(".em_ctab__cta_main_container").each(function(){
var containerHeight = jQuery(this).outerHeight(); var containerWidth = jQuery(this).width();
var content = jQuery(this).find('.em_ctab__cta_content p'); var button = jQuery(this).find('.em_ctab__cta_button');
button.css('top', (containerHeight/2 - button.outerHeight()/2) );
var marginRight = button.outerWidth() + 25;
content.css('margin-right', marginRight);
});
}
jQuery( window ).resize(function() { resizeCTA(); });
jQuery(document).ready(function(){ resizeCTA(); });
Go Back