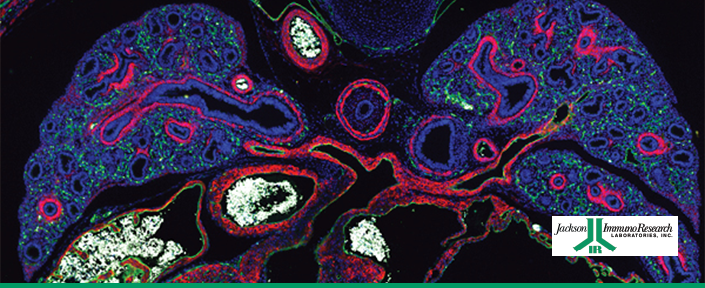 Illuminate your research with Jackson ImmunoResearch
Last updated: 10th May, 2023
Products are for professional/laboratory use only.
Highly Cross-Adsorbed Secondary Antibodies for Immunofluorescence Staining
Immunofluorescence (IF) is an immunochemical technique that enables the detection and localization of antigens on tissue or cells using microscopy or flow cytometry.  Fluorescent immunostaining allows protein expression patterns and interactions to be characterized. Advances in equipment mean new techniques can use IF to increase the detail, resolution, and complexity of the results that can be achieved. 
Jackson ImmunoResearch offers a wide range of Secondary Antibodies suitable for IF, available as fluorescent conjugates that cover the most commonly used excitation sources and filter sets from blue to infrared emissions, including Alexa Fluor®, Brilliant Violet™, Cyanine dyes, and fluorescent proteins. Our short article introduces immunostaining and what considerations are important for optimal experimental setup.
Learn more about: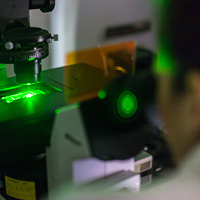 The principles of Immunostaining
Primary antibody considerations
Selecting the optimal secondary antibody
Labeling multiple targets
Blocking and controls
---
function resizeCTA(){
jQuery(".em_ctab__cta_main_container").each(function(){
var containerHeight = jQuery(this).outerHeight(); var containerWidth = jQuery(this).width();
var content = jQuery(this).find('.em_ctab__cta_content p'); var button = jQuery(this).find('.em_ctab__cta_button');
button.css('top', (containerHeight/2 - button.outerHeight()/2) );
var marginRight = button.outerWidth() + 25;
content.css('margin-right', marginRight);
});
}
jQuery( window ).resize(function() { resizeCTA(); });
jQuery(document).ready(function(){ resizeCTA(); });
Go Back