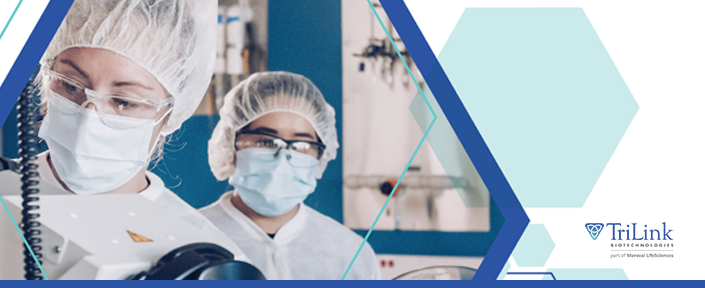 TrLink GMP Modified Nucleoside Triphosphates
Last updated: 24th April, 2023
TriLink has introduced the first GMP-grade Modified Nucleoside Triphosphates available, N1-Methylpseudouridine-5'-Triphosphate.
This modified nucleoside is chemically synthesized and ready to scale into your mRNA therapeutics production needs.
Premier Materials for mRNA Therapies
Backed by 25+ years of experience, TriLink's industry-leading high-purity modified nucleoside triphosphates (NTPs) optimize and enhance mRNA performance to promote robust expression. Their extensive portfolio includes the most-requested modified NTPs, readily available and custom made to order.

function resizeCTA(){
jQuery(".em_ctab__cta_main_container").each(function(){
var containerHeight = jQuery(this).outerHeight(); var containerWidth = jQuery(this).width();
var content = jQuery(this).find('.em_ctab__cta_content p'); var button = jQuery(this).find('.em_ctab__cta_button');
button.css('top', (containerHeight/2 - button.outerHeight()/2) );
var marginRight = button.outerWidth() + 25;
content.css('margin-right', marginRight);
});
}
jQuery( window ).resize(function() { resizeCTA(); });
jQuery(document).ready(function(){ resizeCTA(); });
Go Back