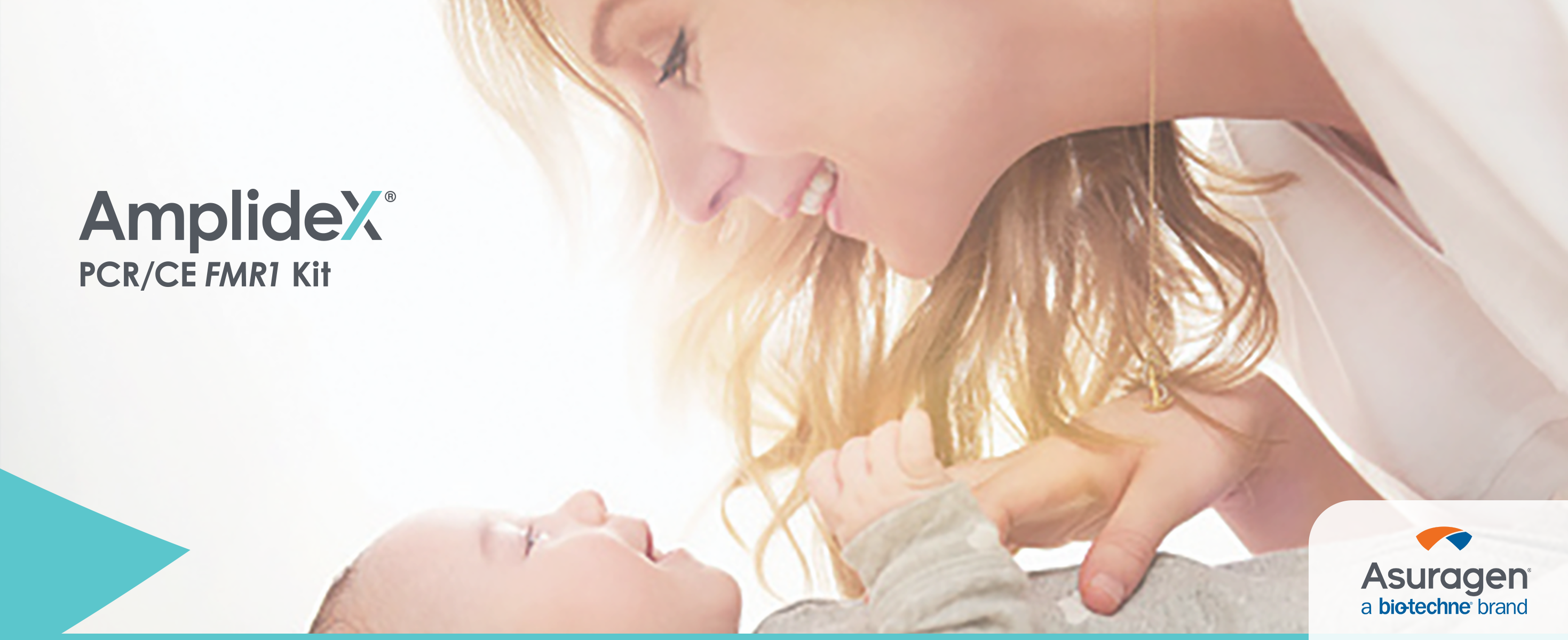 Are you using Asuragen's AmplideX FMR1 kit?
Last updated: 04th April, 2023
Products are for professional/laboratory use only.
How is your lab performing FMR1 gene testing?
Use the kit referenced in over 30 peer-reviewed publications and used in over 200 laboratories around the world. Asuragen's AmplideX® PCR/CE FMR1 Reagents are globally recognised as best-in-class for the assessment of CGG repeats in the FMR1 gene.
AmplideX PCR/CE FMR1 Kit is an in vitro diagnostic (IVD) device for use in clinical laboratories for the detection of the CGG repeats in the Fragile X Messenger Ribonucleoprotein 1 (FMR1) gene. The device is intended to aid in the diagnosis of fragile X syndrome and fragile X-associated disorders, e.g. tremor and ataxia syndrome (FX-TAS) and primary ovarian insufficiency (FXPOI), through the determination of CGG repeat length up to 200 CGG and detection of alleles greater than 200 CGG. The kit provides a PCR-only approach based on Triplet Repeat Primed PCR (TP-PCR) design to reliably amplify and detect all alleles including Full Mutations.
AmplideX PCR/CE FMR1 Kit has created an easy-to-use, accessible, high-performance method for laboratories to reliably analyze CGG repeats and detect interrupting AGG sequences in the FMR1 gene.
Reduced Complexity
Ease-of-analysis of the FMR1 gene has been simplified through:
Implementation of proprietary PCR solution for amplifying GC-rich regions
Automation of result calling using AmplideX PCR/CE FMR1 Reporter
Optimized Workflow
Valuable operator hands-on time has been significantly reduced through:
Direct injection of PCR products (no PCR clean up) in to Capillary Electrophoresis platforms
Decreased need for Southern blot analysis (up to 50 fold)
End-to-end solution for FMR1 analysis including all necessary reagents and software
Quality Performance
Performing FMR1 Analysis with Greater Sensitivity and Accuracy:
Detection of all allele expansions, including low abundance full mutation size mosaics with up to at least 1300 CGG repeats
Up to 875 fold more sensitive than Southern blot1
Resolution of female homozygous and heterozygous samples and indication of interrupting AGG sequences
Proven performance as indicated by more than 30 peer-reviewed publications
function resizeCTA(){
jQuery(".em_ctab__cta_main_container").each(function(){
var containerHeight = jQuery(this).outerHeight(); var containerWidth = jQuery(this).width();
var content = jQuery(this).find('.em_ctab__cta_content p'); var button = jQuery(this).find('.em_ctab__cta_button');
button.css('top', (containerHeight/2 - button.outerHeight()/2) );
var marginRight = button.outerWidth() + 25;
content.css('margin-right', marginRight);
});
}
jQuery( window ).resize(function() { resizeCTA(); });
jQuery(document).ready(function(){ resizeCTA(); });
Go Back