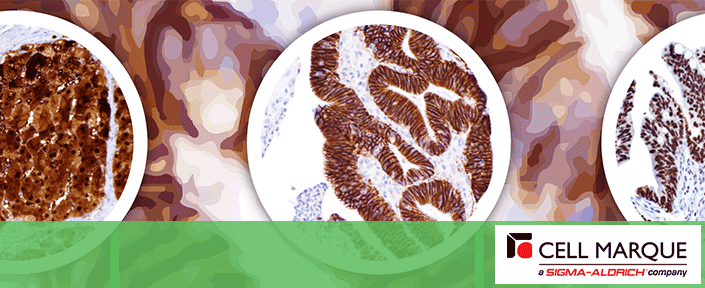 Novel Gastrointestinal (GI) Markers from Cell Marque
Last updated: 03rd February, 2022
Products are for professional/laboratory use only.
We are pleased to highlight the Novel Gastrointestinal Markers available from Cell Marque.
SATB2 (EP281)
SATB2 is a nuclear marker that is valuable in diagnosing tumors of the lower GI tract. It is useful in a diagnostic panel that includes cytokeratin 7, cytokeratin 20, and CDX-2. When used with cytokeratin 7 and cytokeratin 20, the specificity for colorectal carcinoma increases to 100% with the sensitivity over 90%. SATB2 has also shown to identify medullary carcinomas of the colon that are often cytokeratin 20 and CDX-2 negative.
Cadherin-17 (SP183)
Cadherin-17 is expressed in many adenocarcinomas which includes colorectal, pancreatic, and gastric. Cadherin-17 is more commonly used in colorectal adenocarcinomas due to its diffuse and strong staining. In other adenocarcinomas, such as stomach, pancreas, and bile duct, cadherin-17 can be visualized as focal or scattered. Cadherin-17 can be complimentary to E-cadherin as they are both expressed in the intestinal mucosa.
Arginase-1 (SP156)
Arginase-1 can be used in a panel of antibodies including Hep Par-1 and glypican-3 to aid in the distinction of benign versus malignant liver tumors in small biopsies. Hepatocellular carcinoma (HCC) is the most common primary malignant tumor of the liver accounting for an estimated 70-80% of total liver cancers worldwide; therefore, arginase-1 can prove to be a reliable marker for the differentiation of liver neoplasms, most importantly HCC.
Islet-1 (EP283)
Islet-1 is a neuroendocrine marker that labels islets in the pancreas. According to literature, Islet-1 is helpful in distinguishing between well-differentiated and poorly-differentiated pancreatic neuroendocrine neoplasms. It has also demonstrated positivity in the majority of malignant extrapancreatic neuroendocrine neoplasms.1
IMP3 (EP286)
IMP3 is a useful marker in identifying malignancies in pancreatic ductal adenocarcinoma to distinguish them from benign pancreatic lesions, such as chronic pancreatitis. IMP3 is also known to be strongly expressed Reed-Sternberg (RS) cells and mononuclear RS for classic Hodgkin's lymphoma (cHL). The advantage of this marker for cHL is that it does not stain immunoblasts or background neutrophils, eosinophils and macrophages and is more sensitive than the more traditional markers CD30 and CD15. It is also positive in the popcorn cells of nodular lymphocyte predominant Hodgkin's lymphoma that are usually negative for CD30 and CD15.
Glutamine Synthetase (GS-6)
Glutamine synthetase is a key marker in the identification of liver neoplasms, especially hepatocellular carcinoma (HCC). In HCC, glutamine synthetase expresses strongly and diffusely in malignant hepatocytes. It can be used in a panel with glypican-3 and HSP70 to help distinguish between dysplastic and early malignant hepatocellular nodules appearing in cirrhosis.
DOG1 (SP31)
Anti-DOG1 antibody has been shown to be highly specific and sensitive in the diagnosis of gastrointestinal stromal tumors (GIST). Approximately 4-15% of GIST stain weakly or are negative for c-kit by immunohistochemistry (IHC). In the vast majority of these cases, DOG1 is expressed by IHC.2-5
S100P (16/f5)
S100P is a nuclear pancreatic and urothelial marker. It is used to differentiate malignant from benign pancreas in fine needle aspiration (FNA) samples. It also has a higher sensitivity for transitional cell carcinomas than Uroplakin III.
CDX-2 (EPR2764Y)
CDX-2 is a nuclear colon carcinoma marker. It is useful in establishing GI origin of metastatic adenocarcinomafrom carcinoids. It is most helpful in distinguishing metastatic colorectal carcinoma from lung adenocarcinoma.
References:
1) Agaimy A, et al. Mod Pathol. 2013; 26:995-1003.
2) Espinosa I, et al. Am J Surg Pathol. 2008; 32:210-8.
3) Miwa S, et al. J Gastroenterol. 2008; 43:531-7.
4) Parfitt JR, et al. Histopathology. 2008; 52:816-23.
5) West RB, et al. Am J Pathol 2004; 165:107-13.
function resizeCTA(){
jQuery(".em_ctab__cta_main_container").each(function(){
var containerHeight = jQuery(this).outerHeight(); var containerWidth = jQuery(this).width();
var content = jQuery(this).find('.em_ctab__cta_content p'); var button = jQuery(this).find('.em_ctab__cta_button');
button.css('top', (containerHeight/2 - button.outerHeight()/2) );
var marginRight = button.outerWidth() + 25;
content.css('margin-right', marginRight);
});
}
jQuery( window ).resize(function() { resizeCTA(); });
jQuery(document).ready(function(){ resizeCTA(); });
Go Back