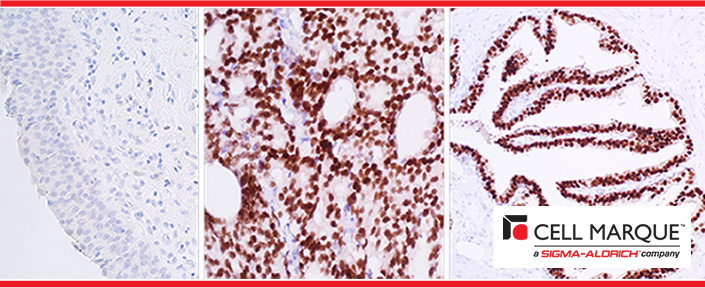 Spotlight on NKX3.1
Last updated: 03rd February, 2022
Products are for professional/laboratory use only.
NKX3.1 is a prostate-specific homeobox gene protein whose expression is predominantly localized to prostate epithelium. It acts as a transcription factor involved in prostate development. Anti-NKX3.1 labels prostate epithelium, both malignant and benign, with a nuclear visualization.
Studies have shown that NKX3.1 immunostaining compares favorably to PSA immunostaining in sensitivity of metastatic prostate adenocarcinoma.1 NKX3.1 is recommended to be included in a diagnostic panel with PSA, PSAP, cytokeratin 34betaE12, and GATA3.2
Benefits of Rabbit Monoclonal NKX3.1:
In vitro diagnostic
Nuclear visualization
A study conducted by Gurel et al. shows that NKX3.1 is more sensitive than prostate specific antigen (PSA) for metastatic prostate carcinoma.1
NKX3.1 has a 99.7% specificity for prostate.1
NKX3.1 IHC is cited in the best practices recommendations for prostate in the International Society of Urologic Pathology consensus conference.2
References:
1. Gurel B, et al. Am J Surg Pathol. 2010; 34:1097-105.
2. Epstein JI, et al. Am J Surg Pathol. 2014; 38:e6-e19.
Photo Information:
Top: Rabbit monoclonal anti-NKX3.1 stains the nuclei of benign prostatic glandular epithelium.
Center: Rabbit monoclonal anti-NKX3.1 strongly labels tumor cell nuclei in prostate carcinoma.
Bottom: NKX3.1 is not expressed by bladder.
function resizeCTA(){
jQuery(".em_ctab__cta_main_container").each(function(){
var containerHeight = jQuery(this).outerHeight(); var containerWidth = jQuery(this).width();
var content = jQuery(this).find('.em_ctab__cta_content p'); var button = jQuery(this).find('.em_ctab__cta_button');
button.css('top', (containerHeight/2 - button.outerHeight()/2) );
var marginRight = button.outerWidth() + 25;
content.css('margin-right', marginRight);
});
}
jQuery( window ).resize(function() { resizeCTA(); });
jQuery(document).ready(function(){ resizeCTA(); });
Go Back